Two Petrolia Homes Celebrate Heritage Designation
The Town of Petrolia is home to 38 Ontario Heritage Designated properties, which works out to one property for every 158 residents. Petrolia is known for a well-maintained, historic downtown and for a variety of architecturally and historically important homes and places of business and has the most designated properties per capita in Ontario – outnumbering Stratford by 2 to 1.  Properties that are designated for cultural or historical significance are preserved and maintained in such a way, that they will continue to be an important part of the community for many years.
The following two properties have been designated under the Ontario Heritage Act for their architectural and historical value and for their cultural significance.
Statement of Cultural Heritage Value or Interest:
4233 Emma Street, located in historic Crescent Park is Italianate style home built during the Victorian Oil Boom in 1870. This two-story largely brick home is in Crescent Park has a low-pitched roof projecting eave supported by corbels, bay windows, glazed door, and tall windows.
Built by Henry Warren Lancey, the home was first owned by Charles Jenkins (Petrolia Crude Oil and Tank Company) and was later owned by Frederick Edwards (prominent oil driller who was purported to have been rescued by Lawrence of Arabia in the Middle East.
The home features many heritage attributes:
• the original wrap around porch and front stairway
• Arts and Crafts style tiled fireplace
• Butler's Pantry
• Unique radiators with lattice design on top (E&C Gurney Company)
• Original stained glass around front door and in dining hall
• various wood ceilings throughout the house
• original high baseboard and crown molding
• decorative corbels around porch
• two sets of bay windows
• original sunroom sliding doors
Statement of Cultural Heritage Value or Interest:
425 Chestnut Street, Ellsworth Manor is a two-story brick structure that is built in the Italianate Villa style.
It was constructed in the early 1880's and completed in 1885 and located on Chestnut Street at the corner of School Street and Hickory Street. Built in the Victorian period, in the Italianate Villa style, and constructed largely due to the oil boom. It was built near the historic Van Tuyl oil lands, and adjacent to Crescent Park, and a block from National Heritage site – Victoria Hall.
John MacDonald was a well-known oil man in the area that served on Petrolia Council, the school board and issued patents, he founded the boiler works and produced oil.
He was one of the first oil barons to import casing and tubing for oil wells from England. He was one of the largest oil producers in Petrolia and was engaged in the refining business.
He built a refinery which he operated for over 20 years under the national Oil Company.
It is an outstanding example of Italianate architecture, with the common attributes including a low-pitched roof, projecting eaves supported by corbels, floor to ceiling windows on the front of the home (one of very few known homes with this characteristic in Petrolia), and a cranberry transom window above the front door. Inside, the home features an original slate fireplace with a faux marble finish with an original tiled hearth. The kitchen ceiling features a coloured plaster decorative medallion featuring fruit, birds, a basket, and plants that features the original finish. Original porch with decorative corbels, unique radiators with pierced cast iron covers and marble tops, and high baseboards, wide door casings and window trim. A second original plaster medallion is featured in the dining room ceiling with a harvest vegetable design. A third plaster medallion that features thistle plants is on the ceiling in the entry. The front door is original to the home – made from wood and glazed glass inserts. Ceilings on both floors of the two-story home are 11′ respectively. The basement features a built in safe, with the original builder's name visible on the door. The home features its original slate roof. The home is a butter brick coloured exterior – a popular colour of the time. The home features a quarried stone foundation and has the decorative roof cresting typical of the era. The home also features four bay windows, two with plaster decorative corbels.
Liz Welsh, Chairperson of the Petrolia Heritage Advisory Committee said, "Both the Emma Street property, and the property on Chestnut Street are architecturally significant, and both have been loving restored. We are pleased to have these two homes added to the distinguished list of historically important properties in Petrolia."
An official designation, and plaque presentation for both properties took place on Sunday, July 24, 2022, with Terry Syer providing a dedication on behalf of the Petrolia Heritage Advisory Committee, with several committee members present. Mayor R. Brad Loosley was pleased to bring best wishes on behalf of Council.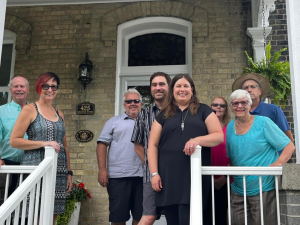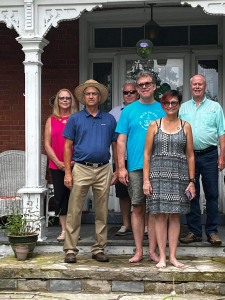 /wp-content/uploads/2020/02/newpetrolia-logo.png
0
0
petrl
/wp-content/uploads/2020/02/newpetrolia-logo.png
petrl
2022-07-25 13:43:31
2022-07-25 13:43:32
Two Petrolia Homes Celebrate Heritage Designation