"It's about to look a lot like Christmas in Petrolia, and I can't wait! It's almost time for us to celebrate the season as a community! On behalf of Council, I could not be more grateful to everyone that makes these events so magical!" Said Mayor R. Brad Loosley.
Christmas in the Park will take place in Victoria Park, Petrolia on Friday, December 2, 2022. We are excited to welcome our Service Clubs, as they all prepare for the return of the famous (and friendly!) chili cookoff! Families are invited to the park for chili and more starting at 6:00 p.m.
The Lambton Central Petrolia Optimist Club Angel Tree names, and the Angel Tree will be visible in the park. New Life Assembly is bringing a photo booth, Margaret Stokes IODE will return with their delicious hot chocolate and treats, and the family wagon rides are back!
At 6:00 p.m. Mayor R. Brad Loosley will have the important job of lighting up the Park and kicking off Christmas in Petrolia! We are pleased to welcome the New Life Assembly Band back to put us all in the Christmas spirit.
The Rotary Club of Petrolia is excited to share some new decorations that they have purchased and donated to the Town of Petrolia, and Rotarian, Mark Braet said, "… Although you must wait to see them, we could not be happier to share these gifts with our community. We love seeing families gather for this event each year, so we wanted to add something to the celebration!"
"There is not a single event that we look forward to more than this one. The Community Services Advisory Committee members work very hard to make this a family-friendly, event full of magic for children, and full of memories of more than 30 years of this celebration for adults. We are grateful to the service clubs and organizations that participate each year, and we are so happy to host the return of the chili cookoff – we've really missed it!" Said Dave Menzies, Director of Facilities and Community Services.
Saturday, December 3, will mark Petrolia's second Outdoor Christmas Market, taking place at the Petrolia Farmers' Market site from 10:00 a.m. to 3:00 p.m. with a variety of vendors and light refreshments available for purchase.
"Last year, when we added the Outdoor Christmas Market to the events for the weekend, we had no idea it would completely change the feel of the downtown the way it did. The atmosphere was compared to the "inside of a Christmas snow globe" and to "a Hallmark movie", and we had many visitors asking if we'd heard of Stars Hollow. The Market, in conjunction with "Shop Like Santa", and having carolers downtown, made Petrolia the most magical place to be with streets lined with people, and the Market bursting with visitors. We look forward to another successful Market as once again, we have sold out all vendor stalls and have a waiting list!" Said Thera Wagner, organizer, and Marketing and Special Events Associate.
"Shop Like Santa", takes place all day Saturday, December 3. Downtown Petrolia welcomes shoppers to participate in a Christmas-themed shopping event and a chance to win Petrolia Bucks! Visit any participating Petrolia Merchant to take part, or watch Petrolia – Shop, Dine, Discover! on Facebook for details.
Petrolia will be transformed to a lively Christmas town all day on Saturday December 3, 2022, as The Sisters of Choice gather on the steps of St. Paul's United Church and carolers from the Petrolia Community Theatre roam Petrolia's downtown sharing in the festive spirit!
Denise Thibeault, Petrolia Business Association Chairperson said, "The "Shop Petrolia" message will be on full display in Petrolia on Saturday, we encourage everyone to visit our merchants, do some shopping, stay for a meal, stop for a coffee, and enjoy finding something unique and special for someone on your Christmas list."
Santa Claus is coming to town! The Community Services Advisory Committee and events team remind families that Petrolia's "Christmas Under the Sea" Parade will take place on Saturday, December 3, 2022, at 2:00 p.m. through downtown Petrolia.
Details of the parade route include a departure from L.C.C.V.I. high school, West on Dufferin Avenue, North on Maude Street, East on Petrolia Line to Oil Street.
The Lambton Central Petrolia Optimist Club along with the Petrolia Camera Club have confirmed that Santa Claus will be making an appearance at The Petrolia YMCA immediately following the Santa Claus Parade. Families are welcome to attend for a free photo with Santa himself, and for some treats and crafts too. The Petrolia YMCA has some fun planned for families to enjoy while visiting also.
If you are wondering how Santa Claus will get your Christmas Letters and Wish Lists this year, he has advised the Town Hall that he will be responding to e-mails and letters. He has asked that e-mails be sent to letterstosanta@petrolia.ca and he will reply. Alternatively, Letters to Santa can be dropped off in the special mailbox at the Santa at Petrolia YMCA event.
Should you go:
6:00 p.m. – Victoria Park – Service Club Chili Cookoff, Lambton Central Petrolia Optimist Angel Tree, IODE sweets and hot chocolate, New Life Assembly Photo Booth and Christmas music in the park provided by the New Life Assembly Band
6:00 p.m. – Victoria Park – Lighting of the Lights
6:00 – 8:00 p.m. – Wagon Rides
Saturday, December 3, 2022
10:00 a.m. – 3:00 p.m. – 396 Fletcher Street, Behind the Library – Petrolia's Outdoor Christmas Market
10:00 a.m. – 5:00 p.m.* – Downtown Petrolia – "Shop Like Santa" Christmas Shopping Event (hours vary based on each business)
2:00 p.m. – Downtown Petrolia – Santa Claus Parade "Christmas Under the Sea"
Following the Parade – Petrolia YMCA – Lambton Central Petrolia Optimist Club hosts "Santa at The Petrolia YMCA"
E-mails and letters to Santa will be accepted until December 15, 2022, and all letters with an e-mail address or return address will receive replies.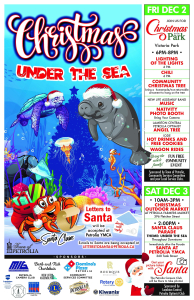 /wp-content/uploads/2020/02/newpetrolia-logo.png
0
0
petrl
/wp-content/uploads/2020/02/newpetrolia-logo.png
petrl
2022-11-15 16:02:54
2022-11-17 11:49:45
PETROLIA SET TO WELCOME SANTA CLAUS TO TOWN WITH CHRISTMAS IN THE PARK, A PARADE, AND A CHANCE TO MEET THE JOLLY ELF HIMSELF AT THE PETROLIA YMCA!