2022 Municipal Election
VOTER INFORMATION
• Voterlookup.ca (operated through MPAC)
Please visit voterlookup.ca to find out whether your information is accurately reflected for inclusion on the Preliminary List of Electors for the 2022 elections. Eligible electors can also update their information, add a name to an address, or change their school support.
MPAC understands the importance of preparing and maintaining accurate and up-to-date electoral information required to support municipal and school board elections, and we are looking for your assistance in encouraging Ontario electors to visit voterlookup.ca to ensure their information is correctly recorded/updated.
voterlookup.ca must be used for all changes and updates made prior to September 15, 2022. Only after voterlookup.ca is closed can an eligible voter complete this process at the Municipal Office.
MMAH Voters Guide (will be posted when available)
Key Dates
Nominations period begins: May 2, 2022
Nomination Day:
On Nomination Day, nominations may only be filed between 9 a.m. and 2 p.m. s.33(4) August 19, 2022
Voting Period Begins: October 14, 2022
Voting day: October 24, 2022
New Term of office commences: November 15, 2022
Election Events and Announcements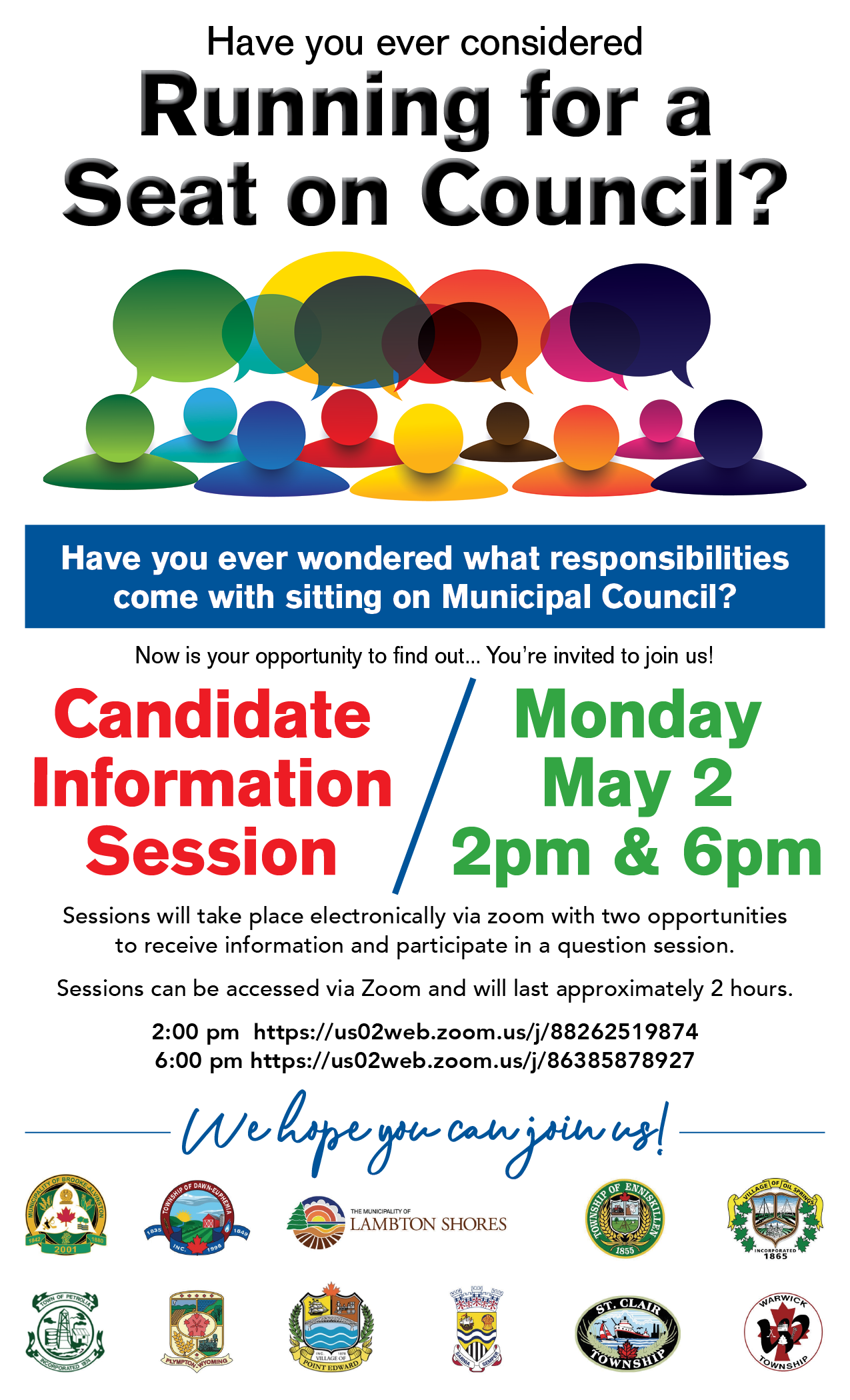 ---
Election FAQ's
• Coming Soon
---
Electronic Voting Demo
• Coming Soon
---
NOMINATION
• 2022 Nomination Ad
• 2022 Nomination package
• MMAH Candidate Guide
• Candidate Information "So You Want to Run for Council"
o Electronic Session "So You Want to Run for Council" May 2, 2022
o Sessions at 2:00 pm and 6:00 pm – please click here on May 2, 2022, or contact the Clerks Department at clerksdepartment@petrolia.ca to register in advance, to access the Zoom Meeting
o Interested Candidates unable to attend the Candidate Information Session can also access the 2022 MMAH Candidate Information Session presentation (link posted after meeting) or you may also be interested in the e on-line course offered (for a fee) by AMO http://www.municipalelection.ca
• Municipal Elections 2022 – Campaign Spending & Contribution Limits 2022
Please check back in May 2022 for updates on filed Candidate Nominations (in order of date received)
| | | |
| --- | --- | --- |
| Candidate Name: | Nomination filed on: | Nomination Form: |
| SEAT OF MAYOR: | | |
| Poore, Richard | May 2, 2022 | Poore, Richard – nomination form filed May 2 |
| Loosley, Brad | May 10, 2022 | Loosley, Brad – nomination form filed May 10 |
| SEAT OF COUNCILLOR: | | |
| O'Hara, Ross | June 20, 2022 | O'Hara, Ross – nomination form filed Jun 20 |
| Welsh, Liz | June 21, 2022 | Welsh, Liz – nomination form filed Jun 21 |
OFFICIAL RESULTS
• Will be posted after October 24, 2022
1. Municipal Council
Official declaration of elected candidates (Form LC20) – posted after election
2022 Official Election results
2. School Board Trustee
Please see the City of Sarnia's declaration of elected candidates for the official School Board Elected Trustees(Official)
---
CANDIDATE INFORMATION
Form LC11 – Notice of Election (Council and School Board)
Certified Candidates (posted after August 19, 2022)
1. Municipal Council
o Official List of Certified Candidates for Town Council
2. School Board Trustee
• English Language Lambton Kent District School Board CENTRAL LAMBTON
• English Language St. Clair Catholic District School Board NORTH & CENTRAL LAMBTON
• French Language Public School Board/Conseil scolaire Viamonde
• French Language Separate School Board/Conseil scolaire Catholique Providence
---
CANDIDATE FINANCIAL STATEMENT – FORM 4
Municipal Election – Financial Statement – Auditor's Report – Form 4
Municipal Elections Act:
Electronic version available to public 88.1 (9.1). The Clerk shall make the documents filed under sections 78 and 79.1 available at no charge for viewing by the public on a website on the Internet or in another electronic format as soon as possible after the documents are filed. Restrictions(10) No person shall use information obtained from public records described in subsection (5), except for election purposes.
ALL CANDIDATES AND THIRD PARTIES ARE REQUIRED TO SUBMIT A FINANCIAL STATEMENT – AUDITOR'S REPORT ON OR BEFORE 2PM ON FRIDAY MARCH 31, 2023
FORM 4 – FINANCIAL STATEMENT – AUDITOR'S REPORT WILL BE POSTED ON THE WEBSITE AS SOON AS POSSIBLE FOLLOWING SUBMISSION
| | | |
| --- | --- | --- |
| Candidate Name: | Completed Form 4 | Date of Filing |
| | | |
| | | |
| | | |
| | | |
| | | |
| | | |
THIRD PARTY ADVERTISING
• MMAH Third Party Advertisers Guide
• Registered Third Party Advertisers
---
ACCESIBILTY PLAN
• Coming Soon
---