Canada Day in Petrolia promises fun for the entire family. After two years of altered plans, organizers look forward to a return to Greenwood Park, and to the events that Petrolia residents know and love.
July 1 will be an all-day celebration starting in Bridgeview Park at 7:00 a.m. with the Kids Fishing Derby sponsored by CUPE Local 2393 and the Lambton Central Petrolia Optimist Club. Kids of all ages are welcome and are asked to bring their own fishing equipment. The Kids Fishing Derby wraps up at 10:00 a.m.
After fishing, or maybe just to get your day started, families are encouraged to visit Royal Canadian Legion Br. 216 for their annual Canada Day Breakfast. Food will be available for a cost from 9:00 a.m. – 1:00 p.m. at the Legion.
The Petrolia Heritage Advisory Committee is offering a "Wild Goose Chase" where participants are invited to complete an online scavenger hunt to win a prize! This year, in honour of the Queen's Platinum Jubilee, the questions will focus on our heritage facilities and history. The Wild Goose Chase will launch at 9 a.m. on July 1, and more information about the app, and how to participate will be shared soon.
Join Royal Canadian Legion, Br. 216 at the flagpole outside Petrolia Legion at 11:00 a.m. for the annual flag raising.
At 2:00 p.m. the Petrolia Canada Day Parade returns to Petrolia's downtown. It will start at Greenfield Street and travel West on Petrolia Line, and down to Greenwood Recreation Centre. Pre-registration is requested by contacting Thera Wagner at (519)882-2350 Ext. 253 or by e-mail to twagner@petrolia.ca.
The family fun continues at Greenwood Park starting at 3:00 p.m. until 11:00 p.m. with free face painting, free bouncy castles and games and a graffiti and chalk wall sponsored by the Petrolia Lions Club.
Canada Day would not be complete without the return of the Bed Races! Re-introduced in 2017 by former Councillor Mary-Pet Gleeson, this event is not only fun to watch but fun to participate in as well. Full rules and information are available on Facebook for the Petrolia Canada Day event, or visit www.town.petrolia.on.ca/news/
Visit the Petrolia Lions food truck and the Lambton Central Petrolia Optimist Club food booth from 3:00 p.m. – 11:00 p.m. and bring a lawn chair to listen to the Rock the Park bands starting at 3:00 p.m.. The Petrolia Scouts will be selling ice cream from 3:00 p.m. until 9:00 p.m. as well, and the beer gardens are available from 3:00 p.m. to 11:00 p.m. A 50/50 raffle supporting The Rotary Club of Petrolia will take place from 3:00 p.m. – 10:00 p.m.
The fireworks will take place at dusk at Greenwood Park, with free fireworks shuttles sponsored by Hull Bus Lines starting at 6:00 p.m. For the complete shuttle schedule, look on Facebook for the Petrolia Canada Day event, or visit www.town.petrolia.on.ca/news/ The free fireworks shuttles will return riders directly following the fireworks.
The Town of Petrolia Community Services Department wishes to thank Canadian Heritage for their ongoing support of the event each year, and for the support of Hull Bus Lines, CUPE Local 2393, The Outdoorsman, Holland Cleaning Solutions, Bluewater Power, McDonald's, intact Public Entities, IG Wealth Management – Courtney Hind, Barb & Rick Charlebois, Beth Hackett Insurance Agency Ltd., Brokerlink, and Bourque Renovations for their sponsorship of the main events and for the continuous support of our Petrolia Service Clubs including Petrolia Legion Branch 216, Petrolia Scouting, The Rotary Club of Petrolia, The Lambton Central Petrolia Optimist Club, The Petrolia Lions Club, Petrolia and Area Kiwanis Club and our many volunteers. Thank you is also extended to the Celebration and Commemoration Program, 2022 Platinum Jubilee of Her Majesty Queen Elizabeth II for their support of the Wild Goose Chase, the Parade, and the fireworks.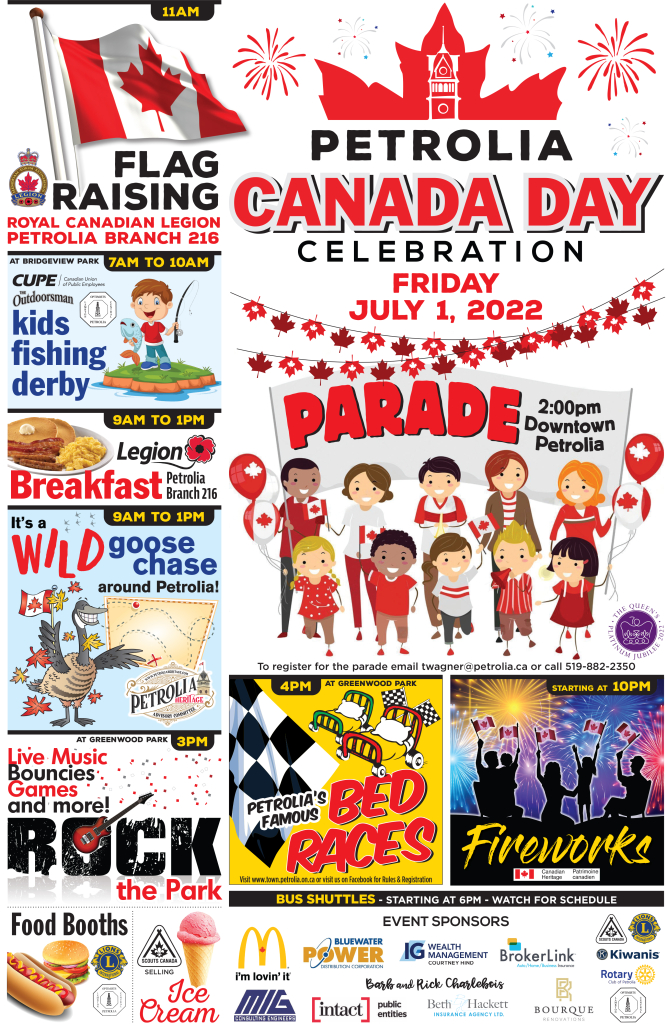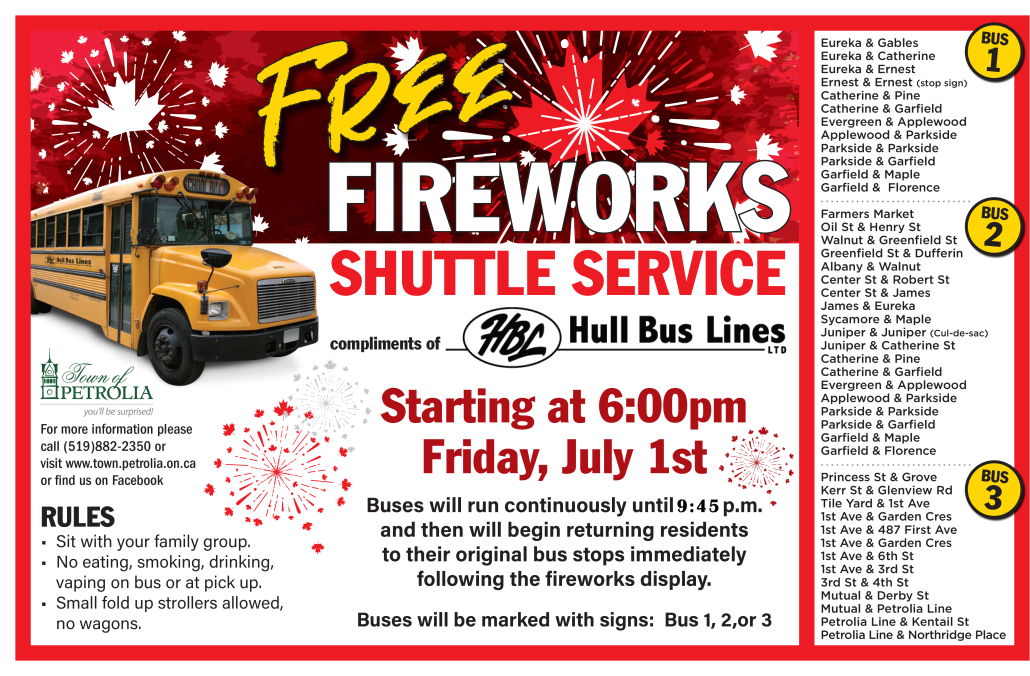 /wp-content/uploads/2020/02/newpetrolia-logo.png
0
0
petrl
/wp-content/uploads/2020/02/newpetrolia-logo.png
petrl
2022-06-07 10:45:14
2022-06-07 10:45:16
PETROLIA ANNOUNCES CANADA DAY FESTIVITIES