Petrolia Transfer Site
2021 Dates Coming Soon!
Ontario Compost Quality Standards
---
Recycling Program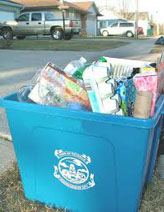 Please CLICK HERE to view an updated route map and listing of acceptable and non-acceptable recycling items.
If you have any questions please contact Town Hall at (519)882-2350
Waste Management Recycling Tips
---
Autumn Leaf Pick Up
Leaves must be in clear plastic bags and at the curb to be picked up.
Pick up will take place Monday, Wednesday and Friday beginning October 15, for as long as weather permits.
---
Curb Side Pick Up Schedule
Weekly – by Town
Central Business District – Twice per week – by Town
Residential Collection: Limit of 3 bags or containers
Commercial, Industrial & Institutional – Limit of 5 bags or containers (subject to site plan agreement)
Please have waste for pick up at the curbside by 7:00am on day of collection and not before 7:00pm the previous day.
On your collection day please have your waste collection items as well as recycling items at the curb by 7:00 am. Recycling will be collected by the truck 1st then the truck will return for waste collection.
Waste Collection & Recycling Route Map
---
Large Item Pick Up
All items are to be placed at the curb no sooner the 7:00 a.m. the day of your regularly scheduled pick up.
Items NOT ACCEPTED:
– Anything hazardous (paint, aerosols, etc.)
– Broken Glass, Window Panes or Sliding Doors
– Recyclable materials
– Compost
– Construction Material
– Vehicles or Vehicle parts
– Appliances (washer, dryer, refrigerator, etc.)
– Electronics
---
Landfill Services
Waste Management of Canada Corp.
Business Address:
4052 Oil Heritage Road
---
Hazardous Waste
Depot is open Last Saturday of the month as follows:
March, April, May, June, September, October
The County of Lambton, in conjunction with Clean Harbors Canada Inc., host several Household Hazardous Waste collections events each year. The events give Lambton County residents an opportunity to properly dispose of potentially dangerous waste from their homes and protect our environment at the same time. If hazardous products are thrown in with the regular garbage, it can injure sanitation workers and cause long-term environmental problems.
Household Hazardous Waste Days take place at the Clean Harbors Canada Inc. site:
4090 Telfer Road in St. Clair Township the last Saturdays of March, April, May, June, September, and October.
9am – 2pm
Services paid for by the County of Lambton.
This service is intended to accept household hazardous waste only.
E-Waste
We are pleased to offer an annual E-Waste Depot Weekend please check here for details!
Please CLICK HERE for details on what is accepted for recycling.