The Rotary Club of Petrolia has partnered with the Town of Petrolia to offer a Community Garden Program that is now available for application. Participation in this program comes at no cost to apply and are awarded by lottery during the first week of December each year. For 2022, the lottery will take place the first week of February. Each plot is awarded for one season, but permit holders are welcome to re-apply each year. It is up to the permit holder to choose your preferred garden style. Plot locations will be assigned by the Committee.
To keep the area looking tidy, plot permit holders are asked to maintain weeds, and are expected to participate in the Fall cleanup of their plot.
Community gardens provide residents with many opportunities including access to healthy and low-cost food, healthy physical activity, skills enhancement, the development of meaningful relationships, and building cross-cultural partnerships.
Dave Menzies, Director of Community Services and Facilities said, "I am very pleased to have the Rotary Club take on this project for our community. It is important that all people have access to fresh and nutritious food, and for some members of our community this will assist with an immediate need."
The location of the Community Garden is on the West side of Centre Street, between Portland Avenue and the Town of Petrolia Public Works Yard.
The application form can be found at: http://town.petrolia.on.ca/residence/rotary-club-of-petrolia-community-garden/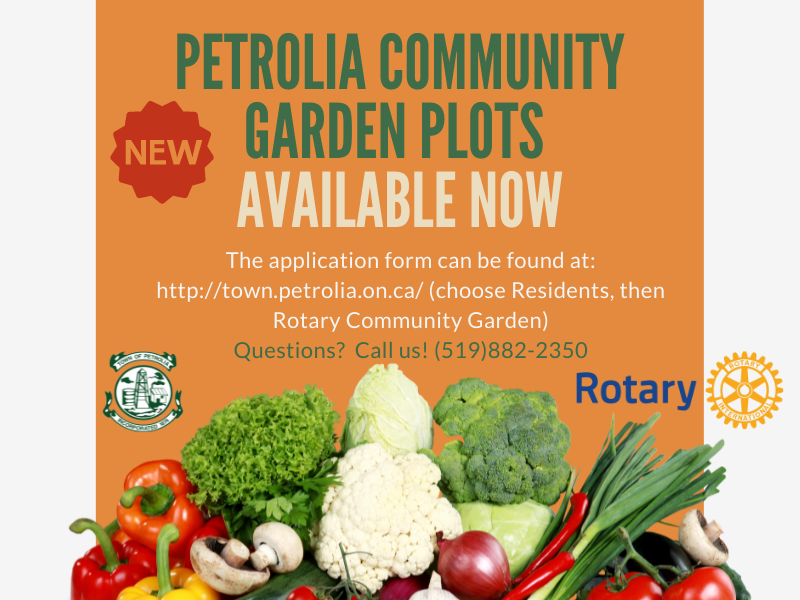 /wp-content/uploads/2020/02/newpetrolia-logo.png
0
0
petrl
/wp-content/uploads/2020/02/newpetrolia-logo.png
petrl
2022-01-10 13:22:59
2022-01-10 13:23:03
THE ROTARY CLUB OF PETROLIA COMMUNITY GARDEN PROGRAM ANNOUNCED