The Petrolia Resident Tree Program Will Return October 12
Each year, the Town of Petrolia Community Services department hosts a tree giveaway program where residents may request one tree (while supplies last) that they can plant on their property at no charge to the homeowner.
The trees are traditionally native trees, trees that provide a large canopy for shade, and trees that show off their bright colours in the autumn.
"This is always a successful program, and we are grateful for the number of residents that participate each year." Said Director of Community Services and Facilities, Dave Menzies.
Residents are limited to one tree per Petrolia address. Only residents of Petrolia may participate in this program. Trees are available on a first come, first-served basis.
This year there are five varieties available:
Autumn Blaze Maple – Fire-red Fall colour, virtually keyless, up to 50 feet tall.
Hackberry – Very tolerant, grows 40-70 feet with a 50-foot spread. Leaves are spearhead-shaped, produces small dark red berries that are great for birds.
Tulip Tree – The tulip tree is a large, fast-growing tree, up to 35 metres tall with a trunk up to 160 centimeters in diameter.
Celebration Maple – Fall colour – Orange, Yellow and Red on the same tree.
New for 2021! Morgan Red Maple – Open habit, oval rounded, very fast-growing tree. Up to 45 feet tall and 40 feet wide. Leaves are large and deeply three lobed (usually), with the side lobes rather widespread. Fall colour is orange red to red to purplish.
The Morgan Red Maple Variety have been generously donated by Murphy Contracting Company.
For 2021, residents are advised that tree certificates will be available by telephone only on Tuesday, October 12, 2021, starting at 8:30 a.m. while supplies last. Residents are asked to call (519)882-2350.
Walk-in requests are not available this year to help with physical distancing.
Tree certificates will be available for pick up on Wednesday, October 13 through Friday, October 22, 2021, between 8:30 a.m. and 4:30 p.m. at the Municipal Office. When collecting the tree certificate residents are reminded that they must wear a mask and adhere to physical distancing requirements.
Trees are available for pick up with the certificate starting on Friday, October 22, 2021, from Windover Nurseries.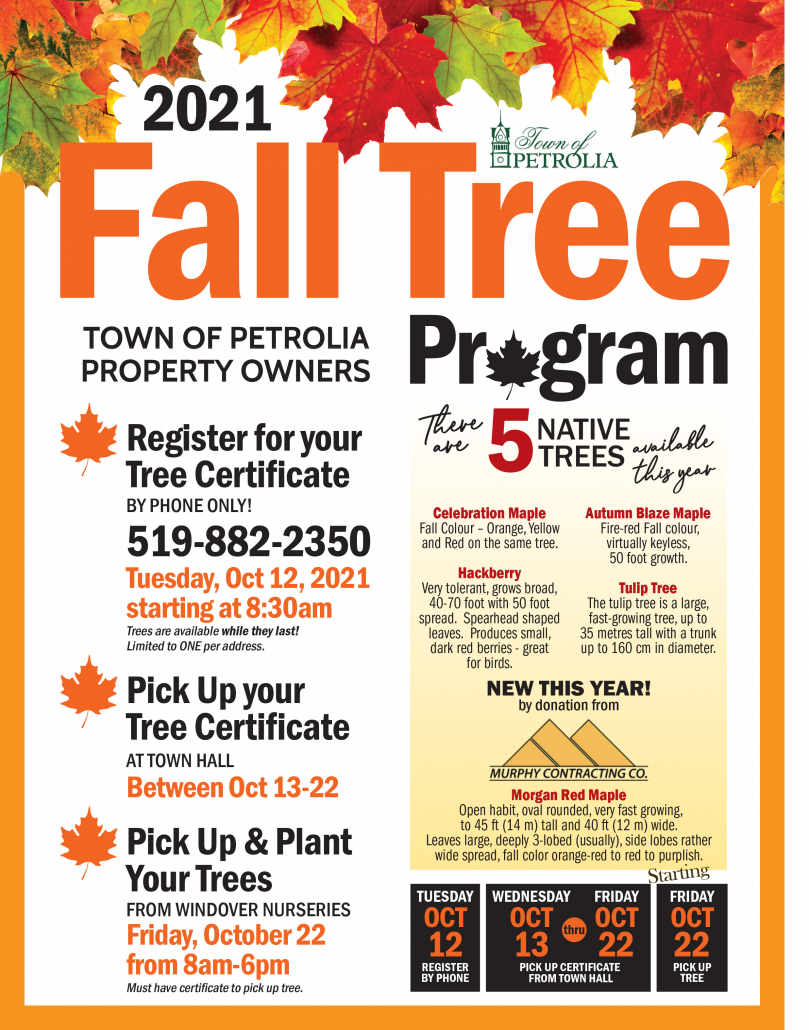 /wp-content/uploads/2020/02/newpetrolia-logo.png
0
0
petrl
/wp-content/uploads/2020/02/newpetrolia-logo.png
petrl
2021-09-23 13:13:33
2021-09-23 13:13:50
The Petrolia Resident Tree Program Will Return October 12