The Petrolia Resident Tree Program Will Return October 11
Each year, the Town of Petrolia Community Services department hosts a tree giveaway program where residents may request one tree (while supplies last) that they can plant on their property at no charge to the homeowner.
The trees are traditionally native trees, trees that provide a large canopy for shade, and trees that show off their bright colours in the autumn.
"This is always a successful program, and we are grateful for the number of residents that participate each year." Said Director of Community Services and Facilities, Dave Menzies.
Residents are limited to one tree per Petrolia address. Only residents of Petrolia may participate in this program. Trees are available on a first come, first-served basis.
This year there are five varieties available:
Autumn Blaze Maple – Fire-red Fall colour, virtually keyless, up to 50 feet tall.
Linden species are mostly large, deciduous trees, reaching typically 20 to 40 meters (65 to 130 ft) tall. Young linden trees have nearly smooth grey bark. Old trees have grey to brown bark which is shallowly fissured. Linden produces broad, heart-shaped, asymmetrical leaves with pointed tips and serrated edges
The Flowering Crab tree is a small, deciduous tree found primarily in the temperate zone of the Northern Hemisphere. These trees typically grow to be 4-12 m tall, and possess distinct white, pink, or red petals when in bloom
Sienna Glen Maple features showy clusters of red flowers along the branches in early spring before the leaves. It has green deciduous foliage. The lobed leaves turn outstanding shades of orange, red and burgundy in the fall. The furrowed gray bark and brick red branches add an interesting dimension
The Brandywine Maple is a stunning shade tree with great color. Small red blossoms steal the show in early spring even before the red-tinged green leaves emerge. These maple leaves mature to solid green before turning a bold crimson red in fall. This tough red maple is cold hardy and adaptable
Residents are advised that tree certificates will be available by telephone only on Tuesday, October 11, 2022, starting at 8:30 a.m. while supplies last. Residents are asked to call (519)882-2350.
Tree certificates will be available for pick up on Wednesday, October 12 through Friday, October 21, 2022, between 8:30 a.m. and 4:30 p.m. at the Municipal Office. Trees are available for pick up with the certificate starting on Saturday, October 22, 2022, from Windover Nurseries.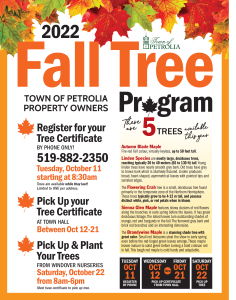 /wp-content/uploads/2020/02/newpetrolia-logo.png
0
0
petrl
/wp-content/uploads/2020/02/newpetrolia-logo.png
petrl
2022-09-20 07:49:20
2022-09-20 07:49:22
The Petrolia Resident Tree Program Will Return October 11