SHOP PETROLIA, ONLINE, FROM HOME ON APRIL 16-18
Petrolia – Changes to how Petrolia merchants conduct business have been evolving throughout the COVID-19 pandemic. In November, the Volunteer Business Group partnered with the Town of Petrolia to present the first online shopping event in Petrolia and it was a huge success. The November event raised over $1200 for the Charlotte Eleanor Englehart Hospital Foundation and saw nearly $10,000 of merchandise sold during the four-hour event. In March, the three-day event saw more than $17,000 in sales for Petrolia businesses.
Due to the COVID-19 Stay at Home Order, staff recognize how difficult it is to shop locally and browse for items. Therefore, the online shopping experience returns for a three-day weekend event from Friday, April 16, 2021 at 6:00 p.m. to Sunday, April 18, 2021 at 9:00 p.m. This shopping event is not a ticketed event, so that even more people can show their support to Petrolia merchants, restaurants and more. Shoppers are asked to visit www.shoppetroliaonline.com and enjoy shopping. All checkouts are secure, and help will be available during the event if needed. Shoppers are reminded to click on the MORE button for each shop as the home page will only show a few items.
Participating merchants will have specials and featured products available for one weekend only. The shopper can choose curbside pickup, or delivery if available. The online shopping portal will be secure and monitored throughout the event. Items purchased during the event will be available as early as the following Tuesday, April 20.
"This has been proven to be a very successful way for us to promote downtown shopping during a period when it is more difficult to do so. Even buying a gift certificate is a great way to show your support." Said Denise Thibeault, event organizer.
This online shopping event is open to all merchants in the Town of Petrolia and so far, several have registered to participate. Event organizers expect that more will continue to be added as the event gets closer.
"We are working continuously behind-the-scenes to bring Petrolia residents fun and new ways to support our local businesses. Now more than ever, if you can, please show your support – our friends and neighbours really need it!" Said Laurissa Ellsworth, Director of Marketing, Arts and Communications.
Questions regarding this event should be sent to sandersthibeault@sympatico.ca, or please call (519)882-4359.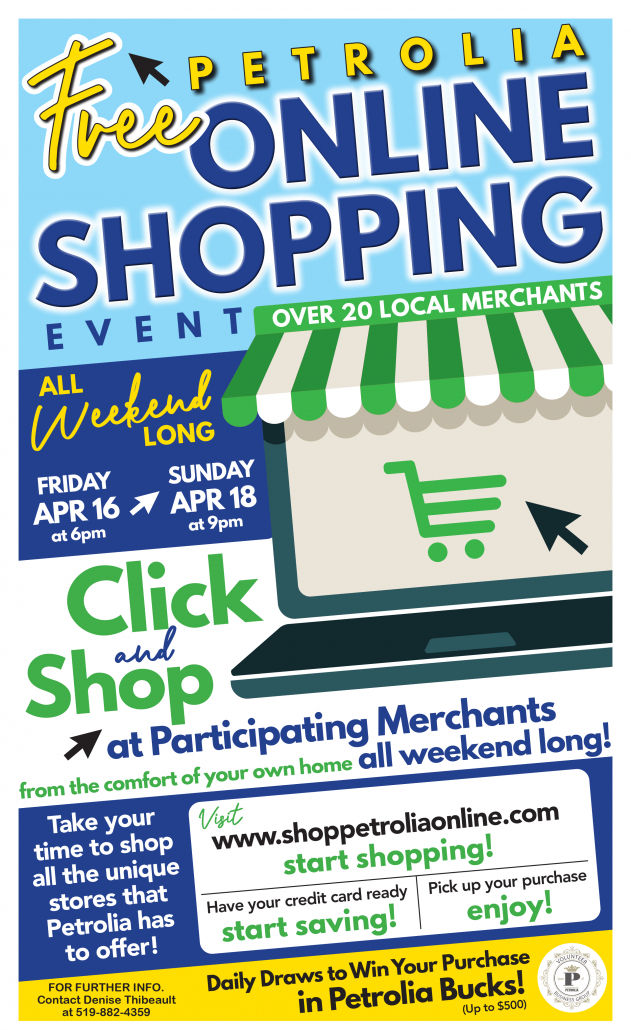 /wp-content/uploads/2020/02/newpetrolia-logo.png
0
0
petrl
/wp-content/uploads/2020/02/newpetrolia-logo.png
petrl
2021-04-09 11:55:27
2021-04-09 11:55:35
SHOP PETROLIA, ONLINE, FROM HOME ON APRIL 16-18