ROYAL CANADIAN LEGION BR. 216 TO RE-DEDICATE CENOTAPH
The Town of Petrolia is pleased to partner with the Royal Canadian Legion, Branch 216 for the re-dedication of the cenotaph in Victoria Park, Petrolia on Saturday, September 24, 2022, at 2:00 p.m.
The Petrolia Cenotaph was unveiled on September 24, 1922, in honour of those from the Municipalities of Petrolia and Enniskillen who died in the First World War. The unveiling ceremony began at 2pm. Hymns and patriotic songs were played by the Petrolia Citizen's Band. Mayor Preston gave the opening address, and the cenotaph was unveiled by Major Fairbank.
Emanuel Hahn's design represents the sorrows caused by war. The soldier atop the cenotaph looks down in sadness at the ground below him, as if he might find there, his fallen comrades, if not for the tragedy of war.
The statue depicts a young, grieving Canadian soldier in First World War army uniform. He is standing at a battlefield grave – a simple cross with poppies and a broken chain at the base and the flag draped behind it – the final resting place of a comrade killed in action. His left-hand rests on the cross, while his right hand holds a reversed rifle. His helmet is slung over his shoulder.
The cenotaph was completely restored in 2012 by Ron Canton Monuments Ltd & Memorial Restorations Inc. The entire joint between the monument and base was removed and resealed with lime mortar. The cenotaph was hand washed, sealed and the inscriptions were hand painted. www.veterans.gc.ca
All are welcome and encouraged to attend the re-dedication, located at 411 Greenfield Street, in Victoria Park, Petrolia.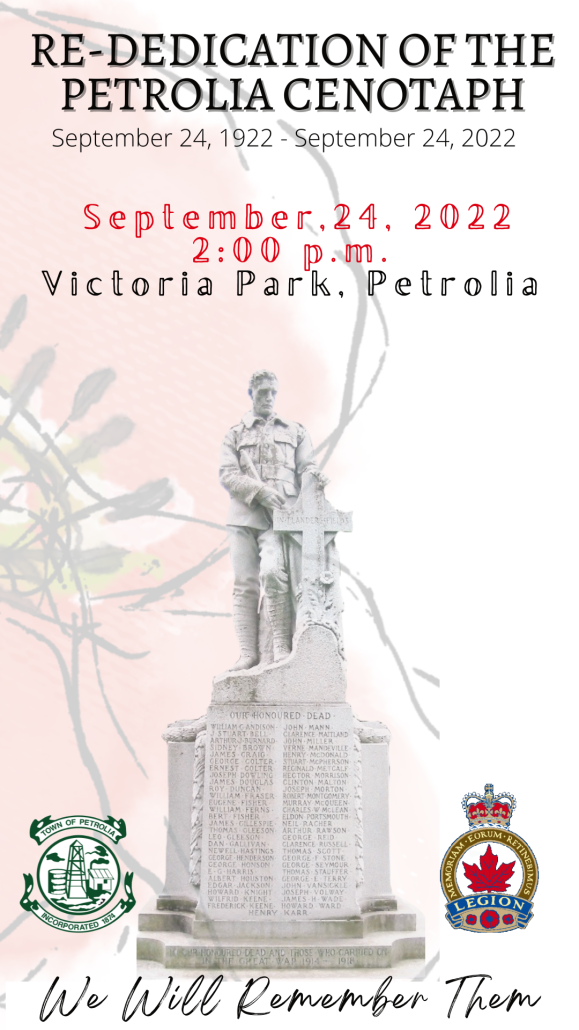 /wp-content/uploads/2020/02/newpetrolia-logo.png
0
0
petrl
/wp-content/uploads/2020/02/newpetrolia-logo.png
petrl
2022-09-14 13:17:02
2022-09-14 13:17:03
ROYAL CANADIAN LEGION BR. 216 TO RE-DEDICATE CENOTAPH