– It was another proud day in Petrolia yesterday, when the members of the Petrolia Support Operations Response Team (SORT), an important part of the Petrolia and North Enniskillen Fire Department, received the June Callwood Outstanding Achievement Award. "… The June Callwood Outstanding Achievement Award for Voluntarism recognizes individuals and groups who have made an exceptional contribution to voluntarism in Ontario. Whether by volunteering their time, efforts, knowledge or resources, citizens from across Ontario are making valuable contributions to the quality of life in their communities and the province.
Up to 20 recipients are awarded the June Callwood Outstanding Achievement Award for Voluntarism each year. Ontario recognizes and highlights the contributions of those who serve to inspire others by the positive examples they provide.
The strength of Ontario depends on the strength of its communities. Volunteers help build diverse, vibrant, caring, and safe communities. They help make this province a socially, culturally and economically strong place in which to live." (http://www.citizenship.gov.on.ca/english/citizenship/honours/oaa.nomination.html)
Nominated for their work with the COVID-19 testing centres, their tireless efforts at community and area fall fairs and agricultural events and more, the group of volunteers could not be more deserving of the honour.
Some background on SORT, from the virtual award presentation. The volunteers of the Support Operations Response Team also known as SORT are trained in basic emergency management principles and firefighter rehabilitation skills.
Each year, they provide thousands of volunteer hours to support the Petrolia north Enniskillen fire department and residents of the surrounding area.
SORT volunteers are prepared to respond to emergencies. They're on the scene with firefighters, hazardous materials responders, and rescue personnel to ensure the health and safety of all fire department members and affected residents. This includes rehabilitating the frontline workers and decontaminating hazardous material.
They support the emergency management for the town of Petrolia. They provide input on the emergency response plan and establish and manage emergency shelters, educate the public about emergency management and more.
During the early stages of the pandemic, SORT volunteers stepped up to help the community.
They implemented a plan for the COVID drive-through assessment centre and supported mass vaccination clinics held at the local arena by providing monitoring and logistics support.
Each month, they meet to train and sharpen their skills to be in support to Petrolia and North Enniskillen Fire Department.
Sarah Milner, Executive Director for the Central Lambton Family Health Team said, "SORT has supported the COVID-19 testing and vaccination efforts through partnering with the Central Lambton Family Health Team over the past two years. They set up a tent here six days a week for a year to ensure there was a structure to support testing. Their tireless efforts benefitted our entire community. This award is very well deserved."
Judith Krall, Petrolia and Enniskillen Agricultural Society said, "Well deserved! The efforts put forth by this group of dedicated volunteers as integral to the success of our Fall Fair. Their commitment to oversee the health and wellness of our attendees is so appreciated."
Fire Chief, Jay Arns added, "They're truly a fine group of people that have the very best interests of our community at the top of mind all the time. They are the first to arrive at community events, and often some of the last to leave. They are some of the most selfless and generous people I have had the pleasure of working with."
"I am so proud, and so pleased that our SORT team has been recognized for their commitment to Petrolia and the health and safety of our event attendees. The Town of Petrolia is fortunate to have a great community-minded group of people. The work that they have done for our community and surrounding area over the past two years alone by setting up and tearing down COVID-19 testing centres each day is nothing short of amazing, not to mention all the other events and activities they support. Bravo, and thank you!" Said Mayor R. Brad Loosley.
Members include Paula Stokes, Colleen Johnson, Brooke Osthoff, Valerie Dejeu, Pam Barrington, Amber McLaughlin, Martin McLaughlin, Karen Kuykendal, Mitchel McCauley, Andrew Hart, Erv Sullivan, Tori Macdonald, Steve McLaughlin (retired), and Jed Gould (retired).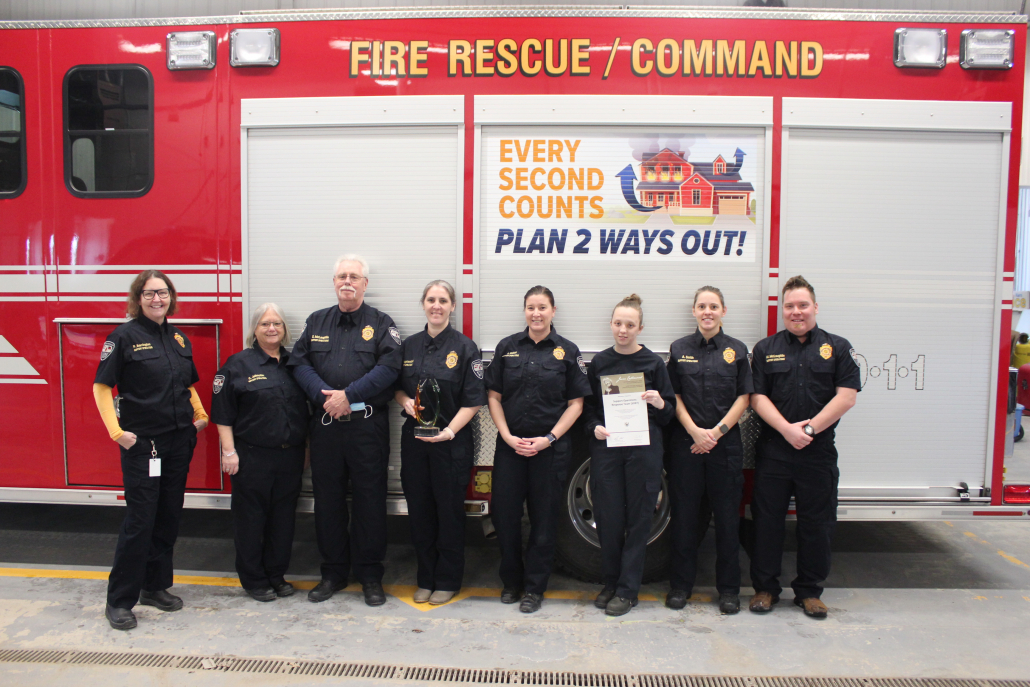 /wp-content/uploads/2020/02/newpetrolia-logo.png
0
0
petrl
/wp-content/uploads/2020/02/newpetrolia-logo.png
petrl
2022-02-04 12:40:55
2022-02-04 12:40:58
PETROLIA SUPPORT OPERATIONS RESPONSE TEAM (SORT) RECOGNIZED FOR VOLUNTEERISM, PROUD RECIPEINTS OF THE JUNE CALLWOOD OUTSTANDING ACHIEVEMENT AWARD