PETROLIA ANNOUNCES YOUTH ENGAGEMENT SUMMIT (#YES)
Petrolia's Youth Advisory Committee (YAC) is calling on all youth ages 12 to 18 to attend their first annual Youth Engagement Summit (#YES) on October 14!
The Committee of Council is brand new for the Town of Petrolia and are already making some big moves to engage youth in the area. The idea of a youth summit has been floated for several years in Petrolia and with this energetic and engaged committee it is coming to fruition.
The day promises to be full of fun, meaningful and interesting opportunities for attendees and includes some key subjects including career workshops, information from community partners, games, prizes, guest speakers and a free lunch provided by the Lions Club of Petrolia!
Acting Mayor Joel Field said, "This is great for the youth. What a great idea to bring so many things together in one place where it's easy for them to learn and access information."
The list of sponsors is growing daily, and the event is pleased to have the support of the Petrolia YMCA, the Town of Petrolia, the Lions Club of Petrolia, and the Rotary Club of Petrolia so far.
Co-Chairperson for the Petrolia Youth Advisory Committee, Ava Horwood, said, "The #YES Event will be one to remember! I am so excited to be a part of the YAC committee and work alongside some fantastic people to host the first annual event that will spark leadership, encourage collaboration, and promote positivity in Petrolia youth!"
Registration opens on Tuesday, August 15 at 10:00 a.m. online at www.thevpp.ca/tickets by phone at (519)882-1221 or in person at the Victoria Playhouse Petrolia Box Office, 411 Greenfield Street, Petrolia. Tickets are $10 each, and financial aid is available by contacting the committee at petroliayouthadvisorycommittee@gmail.com.
For those that register between August 15, 2023, and September 15, 2023, your name will be entered in a draw to win a 3-month YMCA pass from the Petrolia YMCA.
-30-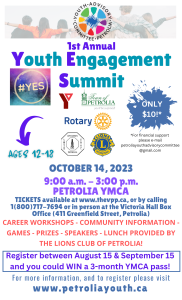 /wp-content/uploads/2020/02/newpetrolia-logo.png
0
0
petrl
/wp-content/uploads/2020/02/newpetrolia-logo.png
petrl
2023-08-02 09:00:17
2023-08-02 09:00:18
PETROLIA ANNOUNCES YOUTH ENGAGEMENT SUMMIT (#YES)