At the regular meeting of Council on Monday, June 27, 2022, in Petrolia, Diane O'Dell, a hard oil, and lifetime resident of Petrolia was awarded the Province of Ontario Senior of the Year award for 2022.
Recognized by Mayor R. Brad Loosley for her years of community support and volunteerism, and her advocacy of the development of youth.
"Diane O'Dell has always advocated for youth in the arts, including music. She was the Arts Director of the Lambton Kent School Board for many years and mentored many children in the arts and music. Over the past 24 years, our children have benefited from her knowledge, teaching, resources, and mentoring. She is always thinking of ways to touch and enrich other people's lives. Whether it is taking them out to lunch, on shopping trips, taking them to their doctors' appointments, or connecting with them on other levels, she is a listening ear to hear their problems and offer advice.
For almost 25 years Diane and a group of Directors have volunteered their services for a choral group of young people from various counties around Petrolia. Preparing material, mentoring each child to find where their vocal talents lie and encouraging them to "sparkle" where they are. Not only do they take these young people to perform at churches, concerts, service clubs etc. But the past ten years she has tirelessly supported them in performing for the Victoria Playhouse Petrolia and eleven consecutive Starbright Christmas professional performances.
Diane is a photographer, billet, snack maker and overall huge supporter of the Victoria Playhouse Petrolia. For more than the past 20 years she and her late sister have supported the arts by helping and giving freely of space for artists to stay in Petrolia.
Diane exudes confidence and is a woman of integrity and eloquence. We are all much better people for knowing her." Said Mayor R. Brad Loosley, during the presentation.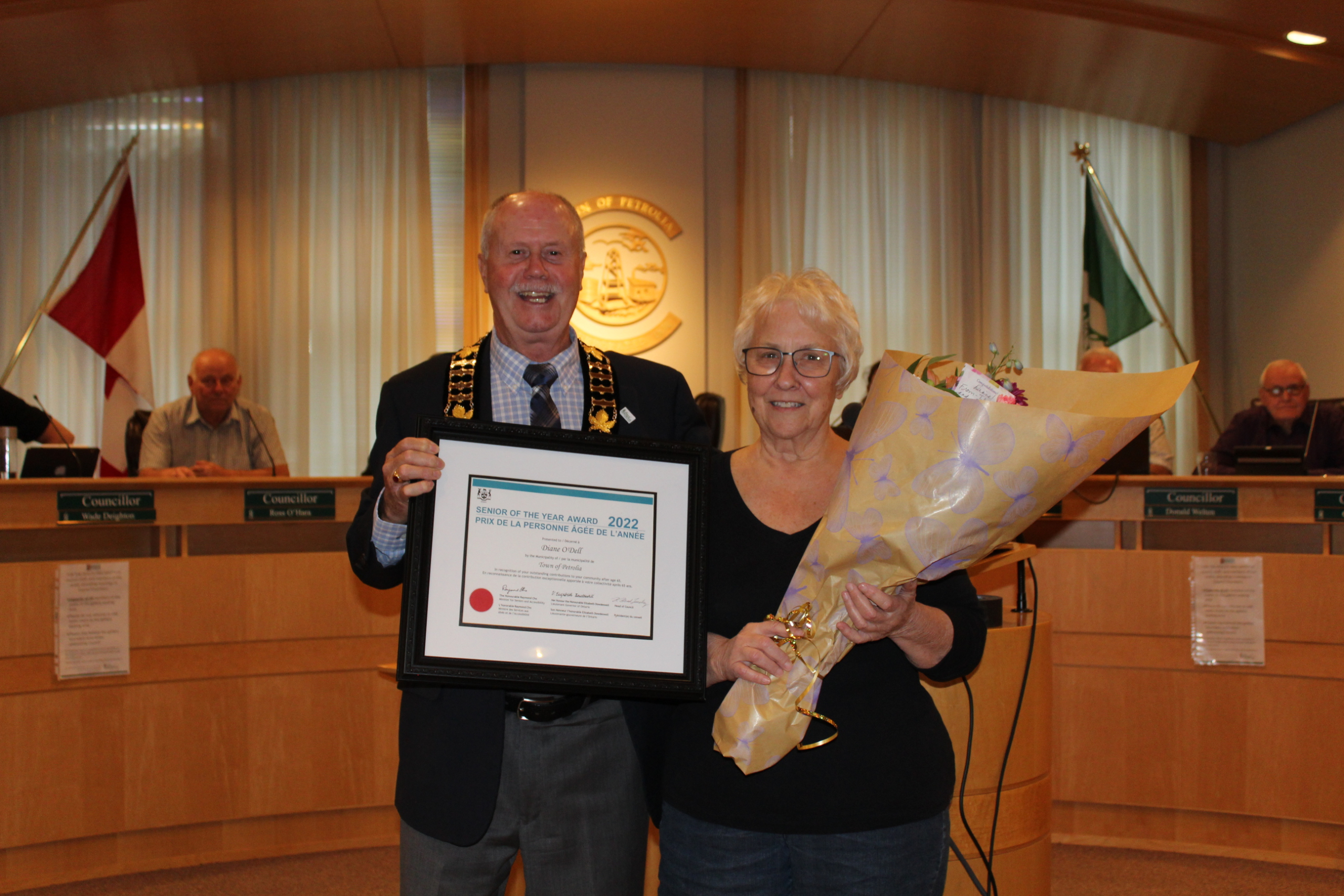 /wp-content/uploads/2020/02/newpetrolia-logo.png
0
0
petrl
/wp-content/uploads/2020/02/newpetrolia-logo.png
petrl
2022-06-28 08:50:38
2022-06-28 08:50:39
Diane O'Dell Honoured as Senior of the Year in Petrolia