Councillor Ross O'Hara Presented Provincial Recognition for Municipal Service
Mayor R. Brad Loosley and Chief Administrative Officer/Treasurer Rick Charlebois presented Councillor Ross O'Hara with a Provincial award at Council on Monday, December 12.
The award, issued by the Honourable, Steve Clark, Minister of Municipal Affairs and Housing, recognizes Councillor O'Hara for 25 years of service.
Ross O'Hara has served on the Council of the Town of Petrolia for 26 years:
(1986-1994, 2015 – present) – Councillor
(1995-2003) – Mayor
Councillor O'Hara has been present for many big decisions in Petrolia over the years, including being in a Council seat for the discussion around re-building historic Victoria Hall, he took us through the Millennium as Mayor, and has re-joined Council in time to celebrate the Town's Sesquicentennial in 2024.
"…I would like to thank Ross for his many years of service to the Town of Petrolia, he has been a very important part of what makes Petrolia great! I look forward to working with him this term!" Said, Mayor R. Brad Loosley.
Chief Administrative Officer/Treasurer, Rick Charlebois said, "25 years of service on a municipal Council is a landmark achievement only realised by a few dedicated citizens". Council is key to a successful municipality. Without residents dedicating their precious time and energy to be members of Council, our municipal level of government would not be providing their local communities the essential services that they need. "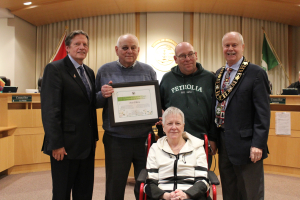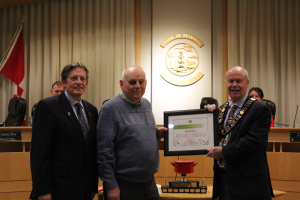 /wp-content/uploads/2020/02/newpetrolia-logo.png
0
0
petrl
/wp-content/uploads/2020/02/newpetrolia-logo.png
petrl
2022-12-13 10:43:45
2022-12-13 10:48:09
Councillor Ross O'Hara Presented Provincial Recognition for Municipal Service