COMPOST TRANSFER SITE AND WOOD CHIPPING DATES SET BY COUNCIL; PASSES ARE AVAILABLE NOW
Petrolia – The 2021 dates for the Petrolia Compost Transfer Site and dates for Curbside Wood Chipping were approved for the 2021 season.
New for the 2021 season, the Compost Transfer Site will still be located at 546 Maude Street Extension, Petrolia. Passes are required to access the site. Passes are complimentary for 2021 and can be picked up at Town Hall. Due to COVID-19 restrictions we ask that residents call ahead to obtain your pass. Access is for residents of Petrolia only, and passes are non-transferable.
2021 APPROVED COMPOST TRANSFER SITE DATES:
Saturdays from 8:00 a.m. – noon
May 15, 22, 29
June 5, 12, 26
July 17
August 7
September 11, 18, 25
October 2, 9, 16
Types of Waste Approved for Receipt at this Facility:
YARD WASTE
Grass
Leaves
Weeds
Hay/Straw
Annual, Perennial and Vegetable Garden Plants
Fruit Tree Waste
Pumpkins with no candles, paint, or decorations
BRUSH
Sticks
Tree branches up to 4" in diameter
Hedges
Vines
Bushes
Corn Stalks
Shrubs
Types of Waste NOT ACCEPTED at this Facility:
Root bulbs
Dirt
Clay
Tree Trunks
Sawdust
Stumps
Walnuts
Residents are advised that depositing items that are not on the accepted list will render the program unavailable as the Municipality will forfeit permissions to dumping the collected garden and yard waste. Residents may bring items in paper bags or reusable bins; no plastic bags will be accepted. Residents with unacceptable items will be asked to take them home.
For those that prefer, see below for two excellent resources for backyard composting:
35 Options to Make Your Own Backyard Compost Bin: https://bit.ly/2VbO54N
Learn How to Compost in your Own Backyard Here: https://bit.ly/3aOSxwZ
Curbside Wood Chipping and Brush Chipping: This service will continue for 2021 and includes: tree limbs, and branches. These items can be placed curbside and the Town chipper will come by and process on site. Brush must be in a tidy and neat pile with cut ends facing the curb.
The 2021 chipping dates will be:
Mondays and Tuesdays:
April 6 & 7
May 10 & 11
June 14 & 15
July 12 & 13
August 16 & 17
September 13 & 14
October 4 & 5
Curbside wood chipping is not street specific; residents can place their brush at the curb on any of these days and it will be processed. Residents are asked to place the brush no sooner than 4:00 p.m. the night before a collection date, and to have all brush at the curb by 7:00 a.m. the day of collection.
Residents are reminded to not impede sidewalk access. If any brush piles have root bulbs attached, contain waste, or other non-organic items the brush pile will not be processed, and the resident will be responsible for disposal.
Curbside wood chipping will continue, with added precautions under COVID 19, in observation of proper health and safety protocols for physical distancing, we will be asking residents to refrain from interacting with public works staff while they are working and forward any questions to Town Hall at (519)882-2350.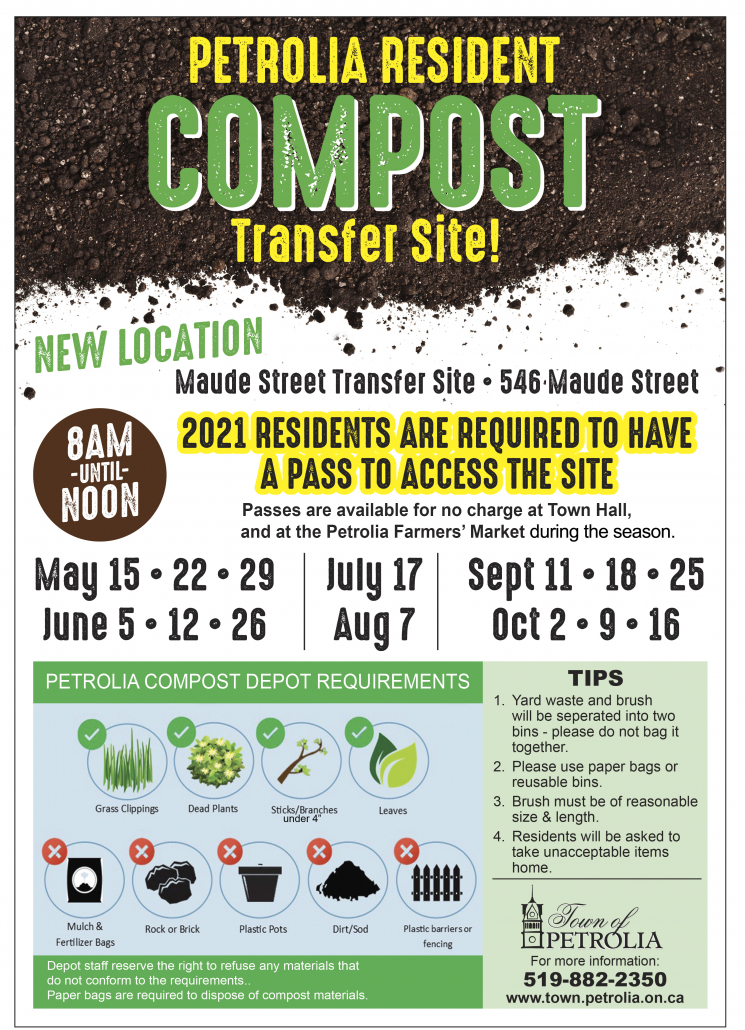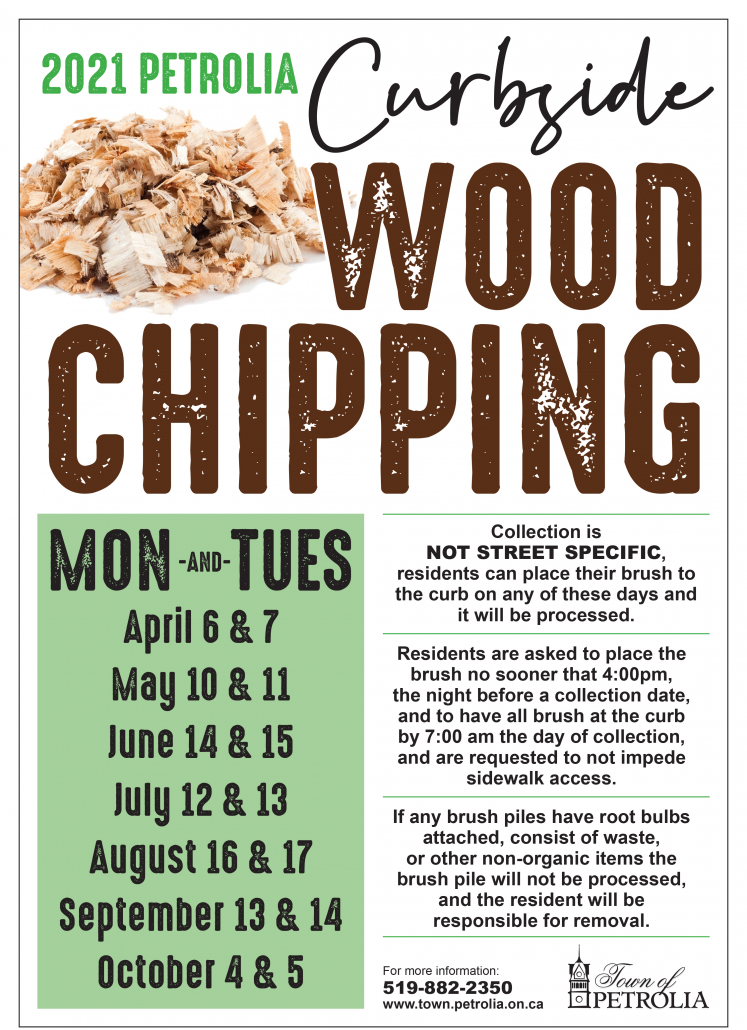 /wp-content/uploads/2020/02/newpetrolia-logo.png
0
0
petrl
/wp-content/uploads/2020/02/newpetrolia-logo.png
petrl
2021-03-10 15:26:01
2021-03-10 15:32:07
COMPOST TRANSFER SITE AND WOOD CHIPPING DATES SET BY COUNCIL; PASSES ARE AVAILABLE NOW