CIVIL WEDDING CEREMONIES OFFERED IN BRIDGEVIEW PARK, PETROLIA ON JUNE 26
Petrolia – The Town of Petrolia Clerks Department is pleased to provide the option of Civil Wedding Ceremonies for those looking to be married.
Throughout the COVID-19 pandemic, many weddings have been cancelled, changed, or postponed and for those couples, an opportunity is being scheduled for Saturday, June 26, 2021, in Petrolia's beautiful Bridgeview Park North at the covered bridge.
The Marriage License would need to be completed, and the payment received in full no later than June 23, 2021, to confirm a time.
The fee for the Civil Ceremony is $175 plus HST for a resident, and the non-residents fee is $200 plus HST, and it will include:
The choice of one of three available Civil Ceremonies
30 minutes at the Covered Bridge
The option of taking photos elsewhere in the park.
The event will be rain or shine, no refunds will be provided, all Provincial guidelines will be observed, and gathering will be "…permitted with capacity limited to permit physical distancing of 2 metres…" (https://www.ontario.ca/page/reopening-ontario)
Payment is required when booking, and the times available, on a first come, first served basis are:
June 26, 2021, at 10:00 a.m.
June 26, 2021, at 10:40 a.m.
June 26, 2021, at 11:20 a.m.
June 26, 2021, at 1:00 p.m.
June 26, 2021, at 1:40 p.m.
June 26, 2021, at 2:20 p.m.
June 26, 2021, at 3:00 p.m.
Too book a Civil Ceremony or to arrange for a marriage license, please email petrolia@petrolia.ca or call (519)882-2350.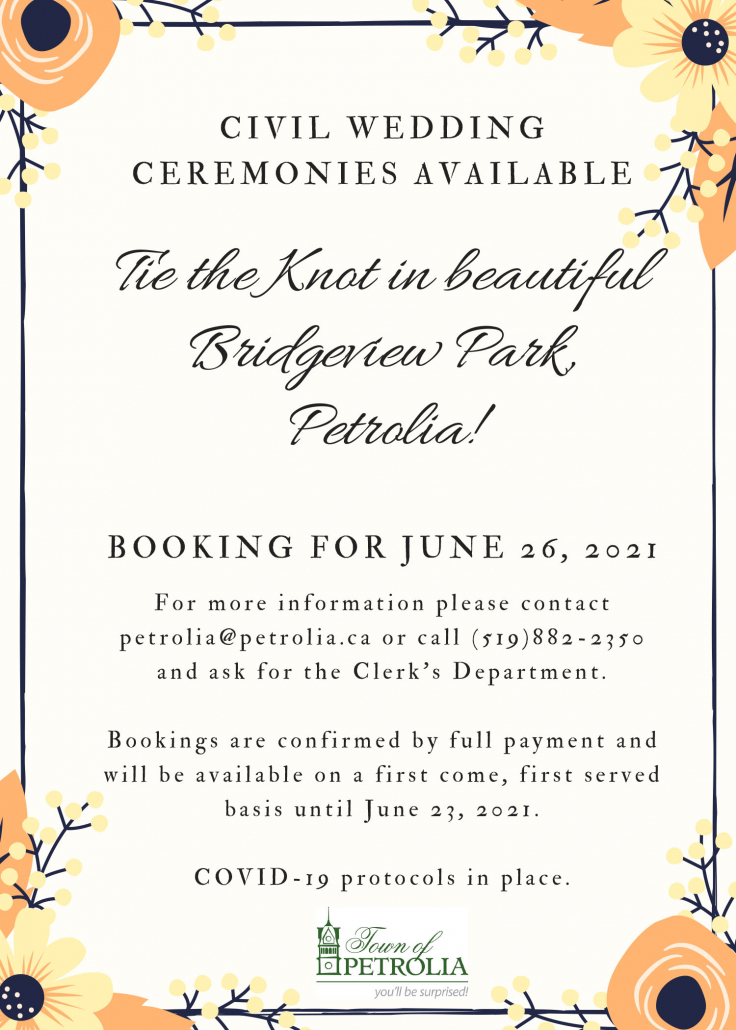 /wp-content/uploads/2020/02/newpetrolia-logo.png
0
0
petrl
/wp-content/uploads/2020/02/newpetrolia-logo.png
petrl
2021-06-09 10:09:52
2021-06-10 10:12:05
CIVIL WEDDING CEREMONIES OFFERED IN BRIDGEVIEW PARK, PETROLIA ON JUNE 26