Petrolia Introduces Tuesday Night Market
Petrolia – For the past eleven years Petrolia has seen tremendous success with the Saturday morning Petrolia Farmers' Market, but something was missing. July 6, 2021, marks the launch of a Special Market – the Petrolia Tuesday Night Market, downtown Petrolia at the same location as the popular Saturday Market – 396 Fletcher Street, right behind the library.
The Tuesday Night Market will see different vendors than the Saturday Market, and organizers promise a variety of arts, crafts, local partnerships, food vendors, breweries, wineries and more. The Tuesday Night Market will run for nine weeks starting July 6, 2021, until August 31, 2021.
Director of Facilities and Community Services, Dave Menzies said, "…We are always looking for ways to encourage residents to participate in events and activities in our community, and the idea of an evening market has been on our radar for a few years. I am looking forward to families enjoying a visit to the Tuesday Night Market and browsing the unique items."
Plan to attend: Petrolia Tuesday Night Market, located at 396 Fletcher Street, (behind the library) every Tuesday evening from July 6, 2021, through August 31, 2021, between 5:00 p.m. and 9:00 p.m. Street parking is available, and bicycle racks are available.
Interested vendors are asked to please visit http://town.petrolia.on.ca/residence/farmers-market/ for the application forms, or to contact Thera at twagner@petrolia.ca or call (519)882-2350, for the application forms. All COVID-19 protocols are in place for the health and safety of the visitors and vendors and volunteers.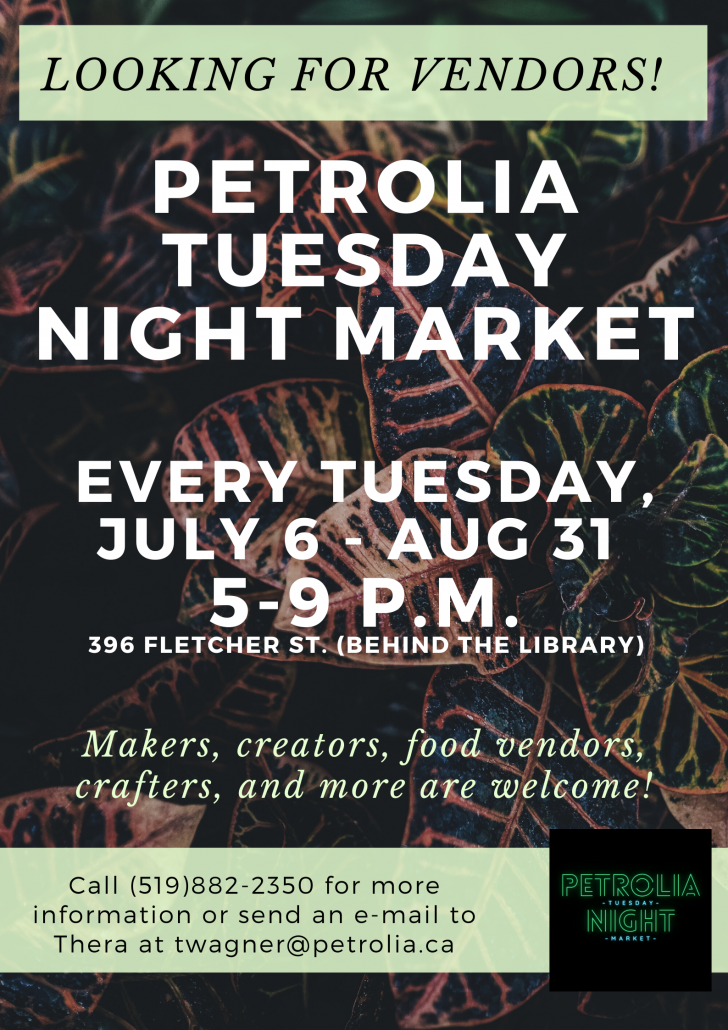 /wp-content/uploads/2020/02/newpetrolia-logo.png
0
0
petrl
/wp-content/uploads/2020/02/newpetrolia-logo.png
petrl
2021-06-18 12:46:35
2021-06-18 12:46:41
Petrolia Introduces Tuesday Night Market