This evening was the final meeting of the 2018-22 Petrolia Council and the inaugural meeting of the 2022-26 Petrolia Council was sworn in. Technology did not work with us this evening, so there is no recording of the sessions.
Our sincere thanks to outgoing members Wade Deighton, Grant Purdy, Marty Souch and Don Welten. Gifts to each of the outgoing Councillors – a framed photo of Victoria Hall with a service plaque – were presented. Sam Welten, was present on behalf of his father Don to accept the recognition.
This evening, Piper Tom Rankin piped in the new Councillors, and Town Crier Les Whiting cried a cheer of all the very best wishes, and Pastor Tim Brown spoke about the pink tray, a treat tray that he brought to symbolize peace and community among Council as they face tough decisions throughout the term, he then provided a blessing.
We welcome the 2022-26 Petrolia Council – Mayor R. Brad Loosley, Councillor Bill Clark, Councillor Chad Hyatt, Councillor Joel Field, Councillor Ross O'Hara, Councillor Debb Pitel, and Councillor Liz Welsh.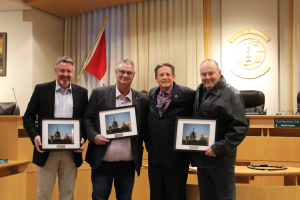 /wp-content/uploads/2020/02/newpetrolia-logo.png
0
0
petrl
/wp-content/uploads/2020/02/newpetrolia-logo.png
petrl
2022-11-15 18:49:30
2022-11-15 18:49:31
2018-22 Petrolia Council final meeting and the inaugural meeting of the 2022-26 Petrolia Council