Rainbow Crosswalk to be Painted in Front of Victoria Hall, Petrolia
Petrolia – Upon completion of the Greenfield Street reconstruction project topcoat of asphalt in 2022, a rainbow crosswalk will be painted across Greenfield Street from the front doors of Victoria Hall to the municipal parking lot in dedication to the local LGBTQ2+ (Lesbian, Gay, Bisexual, Transgender, Queer, Two-Spirit) community.
The crossing will be painted along with the parking lines and other road markings upon the completion of the final coat of asphalt in 2022.
"I am proud of the steps that staff have taken to illustrate to our community and visitors that Petrolia is an inclusive, diverse and accepting place to live, work and play." Said Mayor R. Brad Loosley.
The six stripes in the widely popularized rainbow flag of today each represent an idea that resonates with LGBTQ2+ people: Red for life, Orange for healing, Yellow for sunlight, Green for nature, Blue for peace, and Purple for spirit.
"This installation of a rainbow crosswalk is a definite, viable, symbol to the LGBTQ2+ community that the Town of Petrolia stands against discrimination and hate. It is a step in the right direction that the Town of Petrolia is taking to be a more inclusive, diverse and accepting community, for all who call Petrolia home and for those that visit." Said Laurissa Ellsworth, Director of Marketing, Arts and Communications.
"Post-COVID-19, more than 40,000 visitors will use this crosswalk to access Victoria Hall, so the location is perfect for us to welcome all people to our National Heritage Site, and to our world-class theatre. Equality and inclusion are not optional, they are a way of life, and I am pleased with this addition to Petrolia." Said Rick Charlebois, Chief Administrative Officer/Treasurer.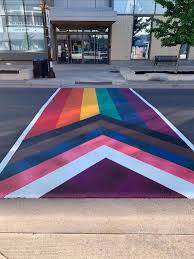 /wp-content/uploads/2020/02/newpetrolia-logo.png
0
0
petrl
/wp-content/uploads/2020/02/newpetrolia-logo.png
petrl
2021-06-14 19:41:37
2021-06-14 19:41:46
Rainbow Crosswalk to be Painted in Front of Victoria Hall, Petrolia