Petrolia Proud Recipient of $11.9M in Federal & Provincial Funding for Water Treatment Plant Intake Project
Petrolia – The Town of Petrolia, Township of Enniskillen, Township of Dawn-Euphemia, and Village of Oil Springs will benefit from a funding announcement of $11.9 million by the federal government and the Province of Ontario. The current estimate cost for this project is $16.2M.
The announcement comes after an application to the 2021 intake of the Green Infrastructure funding stream of the Investing in Canada Infrastructure Program (ICIP) was approved at both the Federal and Provincial level.
MPP Bob Bailey said, "I am extremely pleased that the federal and provincial governments are teaming with our local municipalities to modernize the critical water infrastructure in rural Lambton. This investment is part of the provincial government's plan to create sustainable communities with resilient infrastructure for residents today, and for generations to come."
The project will take place at the Brights Grove Water Treatment Plant (WTP) that is owned by the Town of Petrolia and operated by Ontario Clean Water Association (OCWA) on behalf of the Town. The project includes:
replacement of the existing 400 mm diameter cast iron intake pipe with a new 600 mm diameter "open" gravity intake system connected to a new intake wet well equipped with 3 submersible low lift pumps.
Installation of a new in-lake passive intake screen with a protective crib structure
Frazil ice and zebra mussel control systems
Piping connections from the new intake pipe onshore to the intake wet well and from the intake pump station to the WTP
Process / pre-filtration upgrades to improve the performance-based capacity of the WTP and prevent uncontrolled plant shut-downs during storm and/or water quality events associated with climate change.
The intake replacement project will restore treatment capacity at the Bright's Grove WTP and maintain a long-term sustainable safe drinking water supply system to over 11,200 residents in the Town of Petrolia, Townships of Enniskillen and Dawn-Euphemia and Village of Oil Springs.
Mayor of Petrolia, R. Brad Loosley said, "…Of all the critical infrastructure items in a Municipality, access to safe drinking water is the absolute, single most important component to a healthy community. I would like to thank our neighbours in the Township of Enniskillen, Township of Dawn-Euphemia, and Village of Oil Springs for their support of this project. Further, I would like to thank MPP, Bob Bailey and MP, Marilyn Gladu for their continuous support, and the provincial government and the federal government for the funding to make this project a reality."
Mayor of Enniskillen Township, Kevin Marriott said, "We are pleased to work together with our neighbours to see this project through to completion. This is a key project for our community also. We are grateful to the senior level governments for their vision and support."
Mayor of Dawn-Euphemia, Alan Broad said, "We would like to express our gratitude to the province and the federal government for this funding, and to our neighbours for the partnership to see this project through. This important infrastructure component will serve our communities well into the future and maintain our extremely high-quality drinking water."
Mayor of Oil Springs, Ian Veen said, "Oil Springs is proud to be a part of this project and identifies the high importance of safe drinking water for our community. We would like to extend our thanks to the province, the federal government and to our neighbouring communities, for once again working together to benefit a large part of rural Lambton."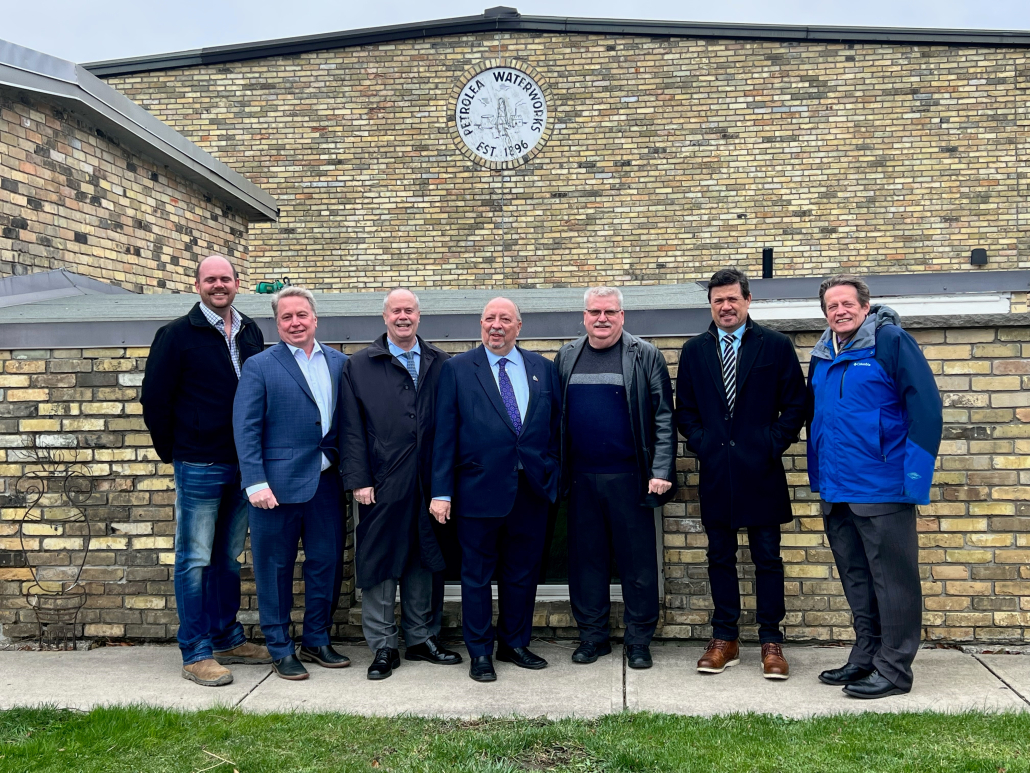 /wp-content/uploads/2020/02/newpetrolia-logo.png
0
0
petrl
/wp-content/uploads/2020/02/newpetrolia-logo.png
petrl
2022-04-27 12:41:29
2022-04-27 12:41:30
Petrolia Proud Recipient of $11.9M in Federal & Provincial Funding for Water Treatment Plant Intake Project