PETROLIA MAYOR CELEBRATES VOLUNTEERISM FOR 2022
Petrolia, ON- Mayor R. Brad Loosley was pleased to honour all Town volunteers tonight at the annual Volunteer Appreciation Dinner. More than eighty volunteers were present to celebrate their accomplishments in 2022.
This recognition event, generally held in February of each year, follows an event that was held in September 2022 to honour recipients for 2020 and 2021.
Service Club members, Town Committees, Victoria Playhouse Petrolia volunteers, and many other groups were recognized at the event. The evening culminated with Mayor Loosley awarding the Volunteer of the Year Awards to two individuals and reserved a third award for a separate presentation when the, as of now, unnamed recipient is available.
Town of Petrolia – Volunteer of the Year 2022 – Community Partner – LARRY LECKIE
St. Paul's United Church
Petrolia Community Refrigerator
Petrolia in Bloom
Town of Petrolia – Volunteer of the Year 2022 – Community Service – TERRY SYER
A third, unnamed at this time, volunteer will be recognized later, as they were unable to attend the event.
Mayor R. Brad Loosley couldn't thank each volunteer enough and stated, "It is a true joy to see so many people so actively invested in the Town of Petrolia. Words do not simply describe the depth of appreciation that we have for each of you. Thank you for sharing generously of your time and for being such proud community supporters."
Each of the honouree's was awarded a framed certificate from the mayor, and a glass award with the Town's clock tower on the face, and bouquets of flowers.
-30-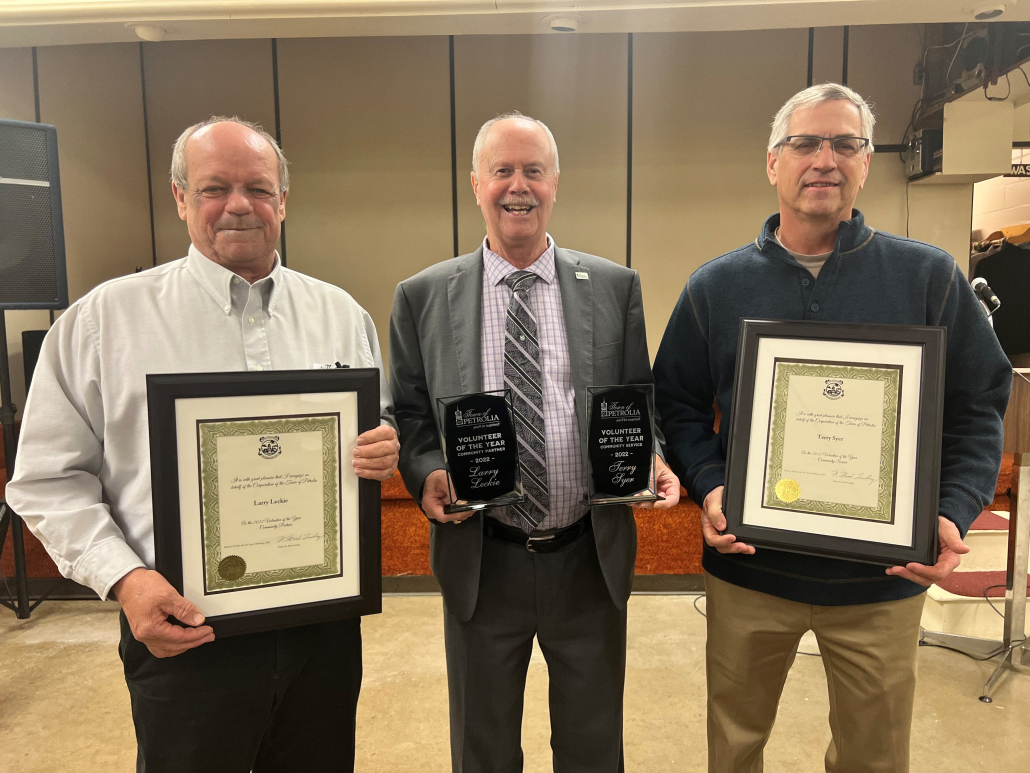 Attachment: Photo: From left to right: Larry Leckie, Mayor R. Brad Loosley, Terry Syer
/wp-content/uploads/2020/02/newpetrolia-logo.png
0
0
petrl
/wp-content/uploads/2020/02/newpetrolia-logo.png
petrl
2023-02-23 20:03:45
2023-02-23 20:03:46
PETROLIA MAYOR CELEBRATES VOLUNTEERISM FOR 2022