Petrolia's fourth Harvestfest meal tickets are available now. The fourth annual installment of this event, scheduled for Saturday, September 17, 2022, is shaping up to be another culinary delight, artfully prepared by Chef Paresh Thakkar. Skillfully assisted by his team, and Town of Petrolia volunteers.
This event features food, beverage, table decorations, dishes and utensils, and entertainment all sourced from Petrolia Farmers' Market Vendors where possible, and otherwise within 100 km of Petrolia. This celebration of all things local is a very popular harvest event each year, and tickets sell quickly.
We are pleased to announce the following sponsors, with more to be added as the event nears: IG Wealth Management – Courtney Hind, RBC Financial, Suncor Energy, Barb and Rick Charlebois, Bourque Renovations, BrokerLink Insurance, Scotiabank, MIG Consulting Engineers, Brooke Telecom and Beth Hackett Insurance Agency Ltd..
Entertainment for this year will be announced shortly, with plans for something a little different, and a little bit country! Local wine, beer and cider will be available at a cash bar at the event.
For the first time, tickets will be sold in groups of six, enough for a table. With the family-style dining approach it was thought that "…with this being one of our first shared dining events, we wanted to make sure that everyone feels comfortable with those they are sharing food with." Said Laurissa Ellsworth, Director of Marketing, Arts and Communications.
Tickets are $300 per table for the multi-course, and live entertainment experience, ($50 per person).
For tickets, please visit town hall in Petrolia between 8:30 a.m. and 4:30 p.m. from Monday to Friday, or the Petrolia Farmers' Market on Saturday's from 7:30 a.m. – noon. Tickets are limited. Doors open at 5:00 p.m. for the Saturday, September 17, 2022, event, at the Petrolia Farmers' Market, 396 Fletcher Street, Petrolia.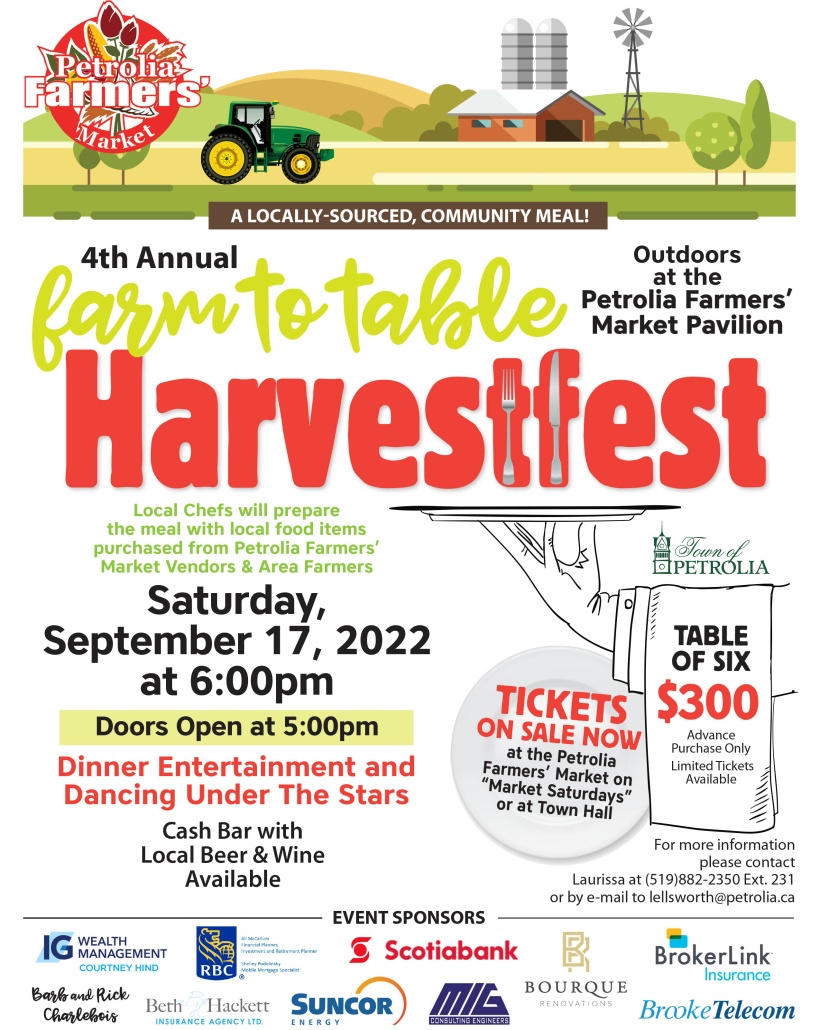 /wp-content/uploads/2020/02/newpetrolia-logo.png
0
0
petrl
/wp-content/uploads/2020/02/newpetrolia-logo.png
petrl
2022-06-15 13:05:00
2022-06-15 10:35:03
PETROLIA HARVESTFEST TICKETS NOW AVAILABLE