The Town of Petrolia trails system has been subject to a lot of work to re-establish nature trails through Bridgeview Park area over the past couple of years. A volunteer committee has been working with the Town of Petrolia to develop walkable trails with points of interest for users of all abilities since 2020. Recently, trail signs have been added that offer route information and distances along with some basic information for using the trails safely and respectfully.
The Margaret Stokes Chapter of the I.O.D.E. dedicated a trail this afternoon in honour of former monarch, Queen Elizabeth II, in acknowledgement of her Platinum Jubilee. The group of community volunteers applied for a Platinum Jubilee Grant from Canada Heritage and for a grant from the Waste Management Green Leader Program. Both applications were successful and led to the development of "The Jubilee Trail" at the Northeast area of Bridgeview Park. The trail comes with signs celebrating their partners in the project, and with benches for those to stop and rest awhile, and with a tree planted in honour of the memory of the former monarch, Queen Elizabeth II.
Although there was some rainfall at the dedication, it did not dampen the spirits of those who came to celebrate the ribbon cutting. Representatives including the President of Ontario I.O.D.E., Margaret Stokes I.O.D.E. members, Warden Kevin Marriott, Mayor R. Brad Loosley, Trail Committee Chairperson, Terry Syer, and Director of Community Services, Dave Menzies spoke about the trails and shared their gratitude for the efforts and support of the trails project.
Margaret Stokes I.O.D.E. President, Wendy Loosley said, "…We are pleased to be here with all of you to celebrate this new trail. Our group of ladies has enjoyed working with the Trail Committee and the Town staff and would like to thank everyone for their help to make this happen."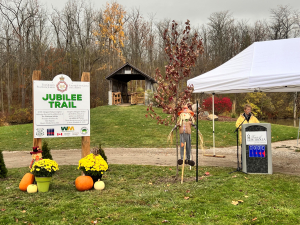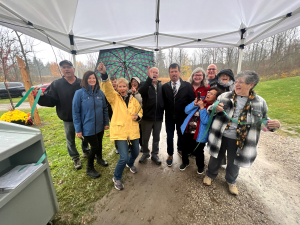 /wp-content/uploads/2020/02/newpetrolia-logo.png
0
0
petrl
/wp-content/uploads/2020/02/newpetrolia-logo.png
petrl
2022-10-26 14:31:02
2022-10-26 14:31:04
MARGARET STOKES IODE DEDICATES TRAIL IN PETROLIA