LOCAL OFFICIAL HONOURED FOR LEADERSHIP
Diligent Honours Exceptional Leaders in Public Governance with the Inaugural Modern Governance 100 Community Boards Program
PETROLIA, April 8, 2021 — Clerk/Operations Clerk, Mandi Pearson was recognized this week as a leader in modern governance. The Diligent Corporation announced the honourees of the Inaugural Modern Governance 100 Community Boards, a program dedicated to the recognition of community governance leaders who are committed to driving positive organizational change. In a year of unprecedented challenges, the program shines a light on publicly elected boards and councils as well as the professionals that support them. These community leaders have demonstrated resilience, dedication, and empathy in the face of complex and challenging times, when good governance matters more than ever. Comprised of 100 impressive individuals and teams, the list recognizes leaders from the field of municipal and education governance.
Over the last year, governance leaders faced an array of new challenges, from the COVID-19 pandemic to civil unrest to shifting to work from home offices. In the face of these changes, governance experts redefined their roles and helped to ensure service continuity and long-term organizational success. The professionals recognized by the Modern Governance 100 Community Boards program demonstrated exceptional work throughout the year, with a consistent focus on communication, collaboration, and community.
"Amidst all the changes and hardships, we've faced this year, the Modern Governance 100 Community Boards program reminds us that there is a very human side to governance. Every day, there are talented people working behind-the-scenes to drive real change for their organizations," said Brian Stafford, CEO of Diligent. "At the end of the day, it's important to remember that it's individuals who navigate the complex realities of our world to make good governance decisions. At Diligent, we strive to honour those who have exceled in their roles and gone above and beyond to help their organizations thrive in turbulent times."
Congratulations to Mandi for all she does to make The Town of Petrolia the best it can be in any circumstances.
Chief Administrative Officer, Treasurer Rick Charlebois said, "…I am very proud of Mandi, I always say that we have an incredibly talented and skilled senior team and Mandi is a proven example of this. Much of her work is behind-the-scenes and contributes to the smooth operation of our Municipality and provides excellent customer service to our residents and businesses. We are fortunate to have such a passionate member of our senior team."
About Diligent Corporation
Diligent Corporation is the pioneer of modern governance, empowering leaders to turn effective governance into a competitive advantage. Leveraging unparalleled insights from a team of industry innovators, as well as highly secure, integrated SaaS technologies, Diligent' s industry-leading suite of solutions changes how work gets done at the executive and board levels. Leaders rely on Diligent to drive accountability and transparency, while addressing stakeholder and shareholder priorities. Its applications also help streamline the day-to-day work of board management and committees, and support collaboration and secure information sharing. Designed for both public and private sector organizations, Diligent is helping to usher in a new era of modern governance. Image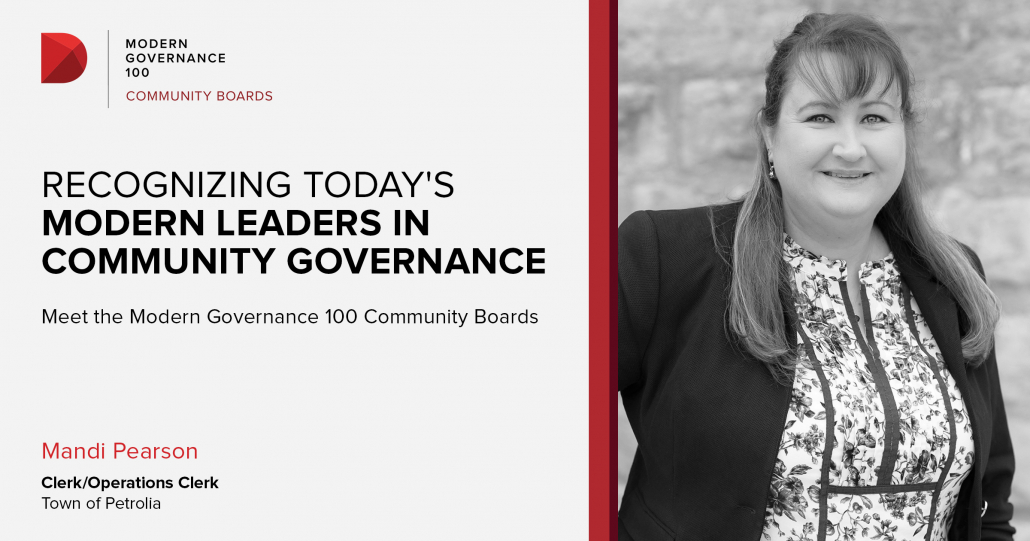 /wp-content/uploads/2020/02/newpetrolia-logo.png
0
0
petrl
/wp-content/uploads/2020/02/newpetrolia-logo.png
petrl
2021-04-08 12:11:59
2021-04-08 12:12:08
LOCAL OFFICIAL HONOURED FOR LEADERSHIP