9th Annual Petrolia Pizzafest Returns to Victoria Park on June 4
Petrolia – Petrolia Pizzafest returns to Victoria Park, Petrolia on June 4, 2022. After a pair of online events in both 2020, and 2021, the 9th annual pizza-lovers event will be an in-person celebration of the cheesiest annual event the town has to offer.
Petrolia is not short on pizza restaurants looking to fill hungry bellies, and event organizers are pleased to boast 7 participants for 2022 – Bud's Family Pizza, Godfathers Pizza, Helen's Hideaway Family Restaurant, Johnny G's Premium Pizza, Petrolia Pizza & Subs, Pizza Hut, Petrolia, and Wise Guys Inc.
Known for the pizza, this event packs a whole lot of fun in to one day. For kids – bouncy castles, and games! For families, pizza, a Lambton Central Petrolia Optimist BBQ, cold non-alcoholic drinks, and Petrolia Scouting offering freezies and ice cream, and live entertainment all day! There is even a beer garden for those that can't resist the famous combination of pizza and cold beer!
We are pleased to welcome back fan-favourite musicians including The Twang Bsds., Vinyl Revival and The Geoff Masse Band!
The event has been generously sponsored by Bluewater Power, Riverside Print & Signs, Bourque Renovations, Courtney Hind- IG Wealth Management, Baysar Business Solutions, MIG Engineering, Rick and Barb Charlebois, BrokerLink, and Holland Cleaning Solutions.
"There's nothing like Pizzafest to bring families together for the first big event of the summer. We like to see just how many slices we can sell during the day. Our highest total ever was just over 7,500 slices in 7 hours, and that's pretty cool!" Said Dave Menzies, Director of Facilities and Community Services. He added that, "This is one of our favourite events each year, what's not to love? Pizza, family, friends, and lots of fun!"
The participating pizza restaurants are facing increased expenses but have chosen to hold the pizza ticket price at $2.50 for the event citing that they "…Would like to show our community just how much we have appreciated their extra support over the past two years. It has been a difficult time for all of us in one way or another, and the support from our community has been paramount in our ability to stay open and remain viable." Said John McFadden of Wise Guys Inc.
Echoed by neighbours Amy and Cody Ewing, when they added "…It's a nice price point for families to enjoy a day in the park and enjoy a variety of pizza. We're excited to be back, it's a great day spent doing what we love best – making pizza!"
The event runs from noon until 7:00 p.m. on Saturday, June 4, 2022, in Victoria Park, Petrolia.
"These events are not possible without a tremendous team of volunteers, we are so grateful to the Community Services Advisory Committee, our Service Clubs, and our community members that step-up year after year to support our community events and activities." Said Thera Wagner, Special Events Associate.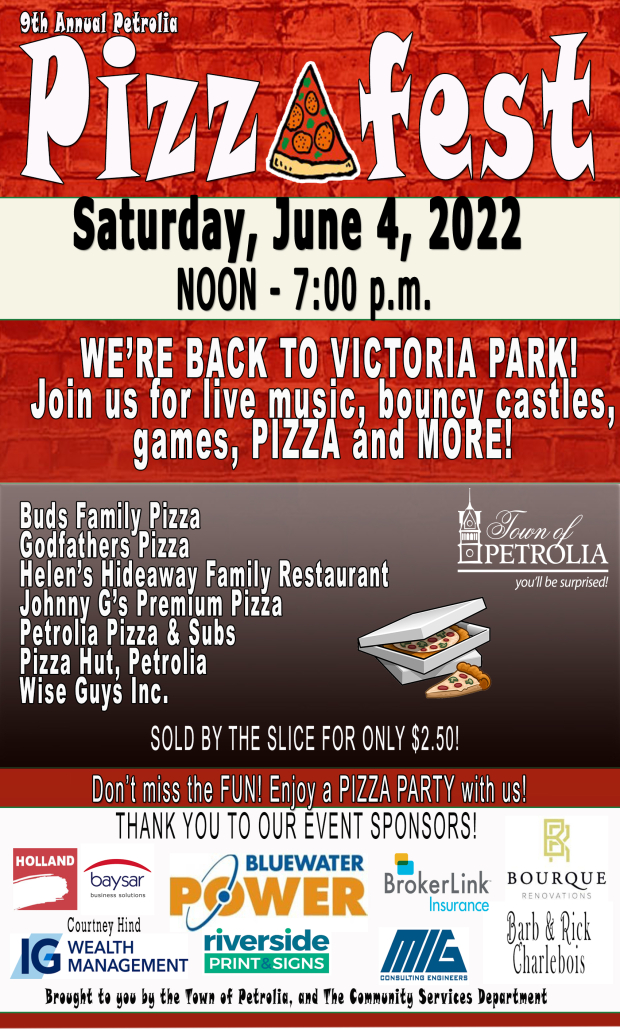 /wp-content/uploads/2020/02/newpetrolia-logo.png
0
0
petrl
/wp-content/uploads/2020/02/newpetrolia-logo.png
petrl
2022-05-11 08:40:17
2022-05-11 08:40:56
9th Annual Petrolia Pizzafest Returns to Victoria Park on June 4